Airports in Portugal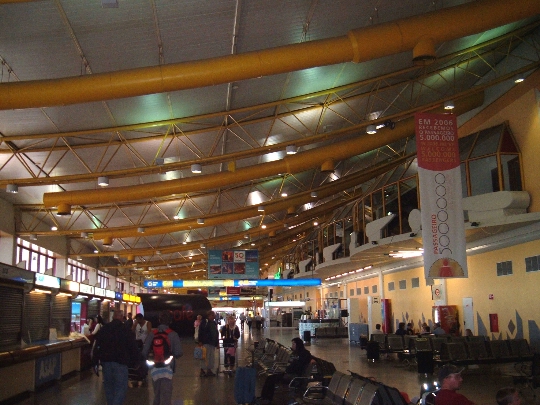 The most western European country, Portugalloved by fans of the ocean, quality wine, hearty cuisine and architectural landmarks in the medieval style. The airport lands Portugal Russian tourist special kind - a traveler who prefers beautiful landscapes of stars on the facades of hotels and a wild riot of ocean waves - a calm contemplation of colorful fish in the warm sea.
From Moscow to Lisbon regularly fly TAP boardPortugal, as in the season and added another charter in Faro. With docks in European capitals can reach almost any major city in the country. Travel time will be from 5 hours.
The international airports in Portugal
The list of air harbors the country registered more than20 points on the map, from which international flights take only a few. The main airport is located 7 km north of the city center, while others - and in the islands and on the mainland:
Funchal Airport in Madeira has an award as oneof the most innovative facilities of this kind. His "Vzletka" - in the top ten most difficult in the world, and its re-enactors were awarded for special achievements and flight engineering. 40 check-in counters will avoid queues and get to Madeira from Moscow easiest with transfers in Berlin, Helsinki and Madrid. 13 km to the city will help you quickly and inexpensively overcome taxis and buses. Details are available on the site - www.anam.pt.
Portugal Faro Airport in the Algarve resort areaIt boasts a new terminal and the presence of a huge number of its schedule of summer charterov. Regularly here fly board Air Berlin, Easy Jet, Ryanair and Thomas Cook in Germany, the UK and the Scandinavian countries. In the arrivals area are available car rentals, where the highway A22 easy reach of any hotel in the Algarve. The schedule can be found on the website - www.ana.pt.
On www.ana site.pt / portal / page / portal / ANA / AEROPORTO_PORTO / contains detailed information on the air harbor of Porto in the north of the country. The city where the airport is located, is famous for wine cellars and a huge number of attractions. Porto is in the flight schedule of many carriers, in particular, here are flying British Airways, Brussels Airlines, Iberia Airlines, Ryanair, Swiss International Air Lines and Lufthansa. With the city links the airport metro line and buses, which run around the clock.
metropolitan area
Lisbon's Portela Airport and the center of the capitalshared by only 7 km to the local subway overcomes a few minutes. It starts at 6.00 and finishes to carry passengers in the morning. From 00.30 to 05.30 in Lisbon can be reached by bus route 783, and during the day - even a few. The stop is located 100 meters from the exit of Terminal 1, which is used by all international airlines. It is here, and passengers arriving in Moscow flights.
All information on the website - www.ana.pt.
Photo