Lisbon - the capital of Portugal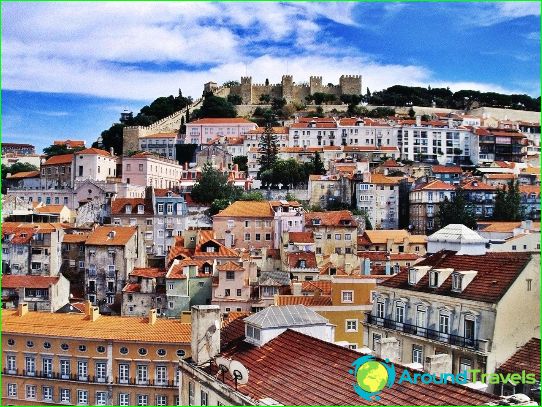 Lisbon, Portugal - relativea small town, you can get around that just a few days. The capital of the country, located on the Atlantic coast, it is surprising for its narrow streets, old houses and tiled roofs, admire that you never get tired.
Monastery of Jeronimos
One of the architectural gems of Lisbon,so majestic and beautiful monastery. The building dates back to the 16th century. It was then at the behest of the ruling governor of Portugal Manuel I Fortunate and construction of the monastery was started, which became his gratitude for the return of the long voyage of Vasco da Gama. The style of the lock meets the traditions of the period. This is a classic "Manueline", harmoniously combining Gothic influence Mauritania and some elements of the Renaissance.
The walls of the monastery became the last refuge for many distinguished lichnostey- here rests Vasco da Gama, Luis Camoes.
Torre de Belém
In its route hiking completelyyou must include a visit to the Tower of Belém. It's an amazingly beautiful building, renaissance, situated on the banks of the Tagus River. Fort as Jeronimos Monastery, erected in honor of the return of Vasco da Gama, who discovered during his voyage route to India.
Originally the tower was supposed to be a beacon of five-tiered fortress. And she was the starting point for many navigators, set sail in order to open trade routes.
Torre de Belém - the brightest representative"Manueline". Here you can admire the openwork balconies, turrets, built in the Arabic style, classic battlements and the arms of the Knights.
Elevator Santa Justa
Design and construction of the lift fell on 1898 - 1902 years, and this amazing lift engineer Raul became Mesner du Pons, a pupil of Alexander Gustave Eiffel.
Elevator made of cast iron. The facade is lavishly decorated with elements of the neo-Gothic style. The lift - not just a great openwork design, it is, as before, is used for its intended purpose. Located in Baixa area, in five minutes, he brings visitors and residents to another area - Chiado.
Rossio Square
The main square of the capital. It looks very unusual due to the special method of paving. Light and dark stones are laid out in the form of waves. For more beauty give mercy luxurious bronze fountains.
On the square is a monument to Pedro IV - one of the kings of Portugal, there is the National Theatre.
Photo