Lisbon Areas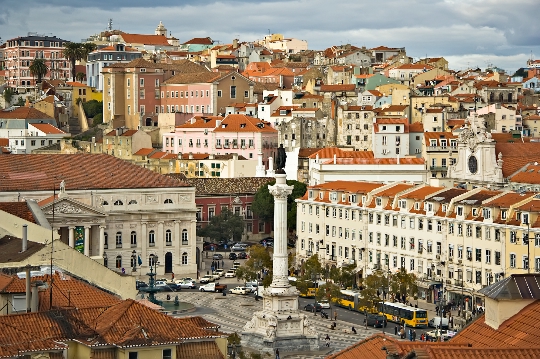 Lisbon Region presented 53 administrative units, not less interest to tourists are areas that do not have administrative boundaries (they have developed historically).
Name and description of the main areas of Lisbon
Ajuda: reading the card, vacationers will allocate for themselves the important attractions of the area in the form of the Botanical Garden "Ajuda" (in addition to tropical plants and flower beds, there is a fountain of the 18th century), the National Museum of Ethnography (here collected items cultures former Portuguese colonies), National Palace of Ajuda ( in its interior there are objects of decorative art in the form of furniture, tapestries, paintings and other things), the Museum of coaches (subject to inspection crews collection).
Estrela: famous for the eponymous basilica (with its roof, which is a steep staircase, offer an attractive panorama, which is fixed on the photo) and the adjoining garden it.
Belem: encouraged to explore the Belem Tower (a reflection of the Moorish style, the tower height - 35 m) and the Monastery of Jeronimos (a museum, whose collection consists of ceramic and glass objects, sculptures, mosaics, gold and silver jewelry, and even the monastery - store Vasco remains Gama , king John III and Manuel I).
Chiado and Bairro Alto: suitable for shopping Garrett Street; if desired, you can set out to explore the ruins of the Carmelite Monastery (then operating Archaeological Museum) and the Saint Roch church (worth enjoy the frescoed ceilings, marble and gilded carvings present in the interior, and to look into the Museum of Sacred Art).
Baixa: Here you can ride on the elevator funicular Santa Justa Lift (two lifts are moved to a height of 45 m), visit the National Theatre, Queen Mary II (you can visit the performances, and at the same time admire the decor, which was created by leading architects and artists of the 19th century) , walk on the Rossio Square (walk will be accompanied by a tour of the fountains and monuments erected in honor of the monarch, as well as a visit to the old café serving delicious Portuguese coffee).
Alfama: examination subject Cathedral Hsieh (Gothic style), St. George's Castle (guests will be able to admire the delicate reliefs and walk around the castle walls), the exposition of the Museum of Decorative Arts (collection of paintings, jewelery, carpets and other things) and the Military Museum (weapons, swords, military shape, guns), St. Anthony church (worth enjoy the vaulted ceiling and paintings by Pedro Alexandrino).
Where to stay tourists
Attractive place for tourists -neighborhood Marques de Pombal Square. This is because the area is connected to all parts of the city's excellent transport links, the area around is a lot of hotels targeting travelers with different budgets.
No less interesting are the streets of the neighborhood of Rua da Prata, as she and her closest "neighbors" are recreational and shopingovogo center of Lisbon.
Pictures of Lisbon