Lisbon Metro: map, description, photos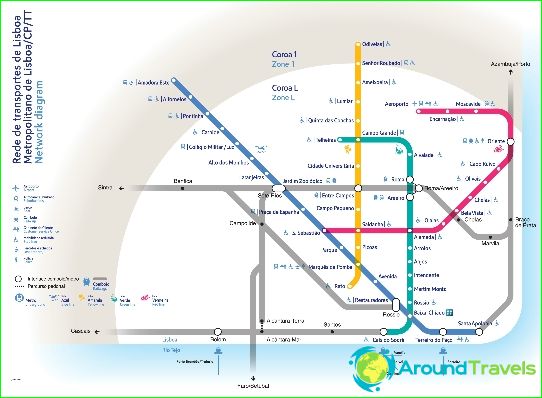 Driving Lisbon Metro
Lisbon Metro (Metropolitano de Lisboa) was opened in December 1959, this was the first subway in Portugal.
As of the 2012 Lisbon has 55 stations on four subway lines, total length of 45.5 km.
construction of underground railway systems IdeasRoads in Lisbon occurred since 1888. The first plan was published military engineer Enrique de Lima in the magazine Obras Públicas e Minas. In the early 20s the idea once again captivated the minds of well-known engineers. But before their implementation, it never came.
After World War II, in which Portugalremained neutral, the rise of the national economy gave a strong impetus to large-scale projects, including the construction and underground. January 26, 1948 was formed a committee to study the technical and economic feasibility of the underground public transport system in Lisbon.
Construction began on August 7, 1955, andfour years later on 29 December 1959, the metro was opened. Y-shaped line connects Restauradores and Rotunda (now Marquês de Pombal), branching to the Entre Campos and Sete Rios (today Jardim Zoológico).
Nova transport was enthusiastically received by the public, and in the first year of the metro has transported more than 15.3 million. Passengers. Metro proved an important factor in the development of the city, covering new territory ..
Hours of Lisbon Metro
Lisbon's Metro starts its job every day at 06:30 and ends at 1:00 am (last train arriving at the final station at 1:30). Trains run every 5-8 minutes. Tickets Metro Lisbon
Tickets Metro Lisbon
The Lisbon metro there are two ways fare:
Contactless card Cartão 7 Colinas / Viva Viagem, which costs € 0.50 and is valid for one year
Contactless Lisboa Viva card, which can also double up as monthly passes
Both cards can also be used for othermeans of transport (including commuter trains and ships ferry Transtejo & Soflusa posts). The tariff will be charged € 1.40 per trip in the subway, regardless of distance, committed during the trip.

Metro stations in Lisbon
Architecture subway station in Lisbon, likesubways of Moscow, Montreal and Stockholm, is given serious consideration. During the construction period the main task of the architects was a moment of transition between the ground and the underground part. The architect Francisco Keil do Amaral (1910-1975) developed a model of the station, which was used as a template for all the subway stations built before 1972. The architecture is dominated by moderate lines and firmness. Eleven stations, except for the Avenida, the fruit of a grand work of the artist Maria Keil (1914-2012)
In 1988, on the design of new stations workedPortuguese contemporary artists: Rolando de Sa Nogueira, Júlio Pomar, Manuel Kargaleyro, Vieira da Silva. All stations lighting plays a very important role.
Photos of Lisbon Metro
Driving Lisbon Metro