Lisbon Suburbs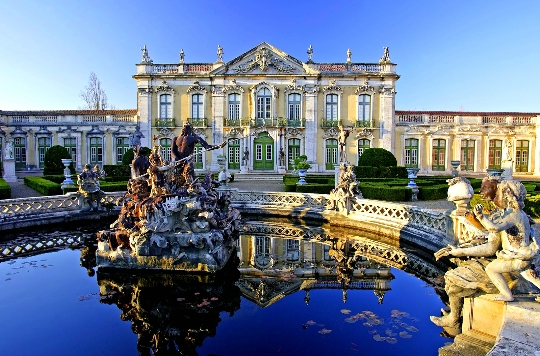 The most western capital of continental Europe,Portuguese Lisbon - the city is very interesting and picturesque. It is very organic combination of different architectural styles and epochs and its attractions rightfully takes pride of place in the list of the most interesting world masterpieces. Palaces and forts, basilicas and cathedrals, theaters and art galleries allow travelers to spend time in the center and the suburbs of Lisbon, interesting and varied.
The royal style
Dreaming arrange a tour of thethe royal palace? In the suburbs of the city of Lisbon Queluz is possible. A few kilometers from the center of the Portuguese capital in the middle of the XVIII century was built a magnificent palace in the Rococo style, which became in 1794 the residence of the Queen Mary. It was designed by the famous architect Mateus Vicente de Oliveira and decorated luxury apartments stucco and carved wood, paintings and sculptures by artists from Italy and England.
Castle Park is a wonderfulsample landscape design. Summer pavilions arranged on a perfect lawn, and luxurious beds and fountains demonstrate mastery of court gardeners in all its glory. The palace is now the residence, where they take foreign government delegations arriving on an official visit to Portugal.
Catch a wave
Located in the bay of the Atlantic Ocean,Portugal's capital and boasts magnificent beaches. In the suburbs of Lisbon, there are several resort areas, where prefer to relax and locals and guests:
Caxias - the closest beach to Lisbon. It is small in size and has a sandy surface. Located near the beach of the fort of San Bruno, and access to the resort is easiest by train from the station in Lisbon.
On the beach Paço de Arcos, you can sunbathe and swimwith greater comfort - sun beds and umbrellas rentals and fresh shower allow to come here and families with children. On the coastal strip lifeguard and water condition are regularly monitored. Grab a snack in the coastal bar or restaurant, which serves excellent local seafood.
In the suburbs of Lisbon Oeiras is widesandy beach, equipped with showers, sun beds and umbrellas rental. The car can be left here on a convenient parking, and those who have decided to use public transport, enough to walk a few minutes from the railway station.
Photo