Where to eat in Lisbon?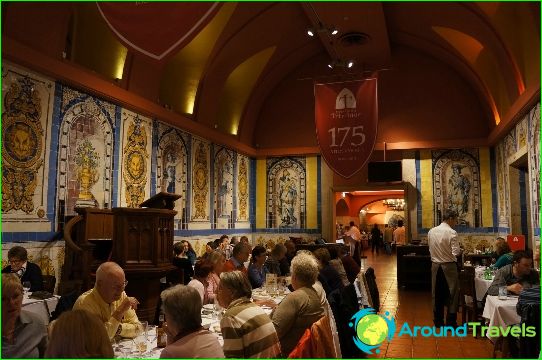 Where to eat in Lisbon - no problem: the city opened many catering establishments (cafes, restaurants, coffee shops, tasca). The national institutions, you can enjoy "caldo verde" (rich soup with vegetables), fish "Robalo" and "wolf's perch", "caldeirada" (thick soup based on seafood), roasted lamb meat or lamb, steaks fevras, cakes with fruit fillings.
Where to eat in Lisbon cheap?
Cheaply you can eat in tascas and cafes that are open at the shopping malls - where you can enjoy typical Portuguese cuisine, as well as all sorts of burgers, sandwiches, coffee and cakes.
If your goal - inexpensive meal in a cozyrestaurant, visit the "Cantinho Lusitano" (this restaurant run by a husband and wife, passionate Portuguese cuisine). The advantage of the power in this institution is the fact that all the dishes here are prepared exclusively from natural, local ingredients. In addition, here you can taste a variety of Portuguese food for 1 meal, because it served as a "tapas" - small portions of different dishes.
Where to eat in Lisbon tasty?
Solar dos Presuntos: the purpose of the staff of the restaurant, which specializes in Portuguese cuisine - not to serve customers and carry out care for the guests. It is worth to try the seasonal fish and octopus.
Belcanto: This Michelin restaurant offers original cuisine by Chef Jose Avileza. In this place you will definitely tell what is presented in the menu and advise the best combinations (tip: try the tenderest meat pigeon and dessert "Mandarin").
Cais da Ribeira: This restaurant is for lovers of fish dishes (fish here is prepared according to old recipes unique). In addition to delicious food, here you can enjoy spectacular views, opening onto the Tagus River.
Pasteis de Belem: this cafe - a paradise for the sweet tooth. Here you can enjoy the creamy cakes, the recipe of which is kept in the strictest confidence.
Gastronomic tours in Lisbon
On the gastronomic walk in Lisbon inpart of the tour you will visit local schools and learn many interesting things about the Lisbon kitchen. So, you will visit the coffee shop in Lisbon Caf Nicola (tasting of Portuguese coffee and sweets) in the shop of delicacies Manteigaria Silva (tasting of dried salted cod - Bakalyan, cheese and sausages traditional farm).
As part of gastronomic tours can be arranged tasting port wine, for example, "Kase Macario" (here it is possible to eat chocolate and other sweets).
In the Portuguese gastronomic paradise - Lisbon - you can find a variety of dining options that match your taste preferences.
Photo