Sight Porto area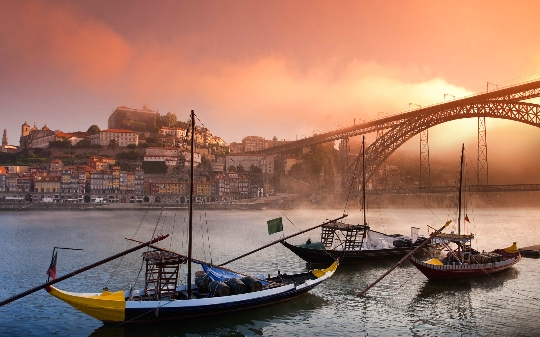 Tourists climb the observation platform Porto, from a new angle admire the House of Music, the Ribeira district, Crystal Palace Gardens, and other objects.
Clérigos Church
The interior of the church Clérigos (Baroque style)granite and marble (thread acts as a decoration), and anyone can carry out the rise to the observation deck - the sixth floor of the bell tower Torre dos Clérigos; the height of the bell tower - 76 meters, breaking the more than 220 steps up the narrow spiral staircase (here, guests admire the Douro river and the old port area). Useful information: tickets cost 3 euros; visiting hours: 09: 30-10: 00 - 17: 00-19: 00 (depending on the season).
How to get there? You can get there, sitting on the bus number 15 (Address: Rua Senhor Filipe de Nery).
Cathedral
Since the cathedral (as wall decorations andcodes used white and blue tiles) is on a hill, then visiting it (worth seeing the altar, the manufacture of which 800 kg of silver was required, as well as the patio; entrance ticket price - € 3), it is recommended to look away over the rooftops of the Old Town buildings as well as the facade of the Bishop's Palace.
A visit to the cathedral is recommended to plan in late June, when there is organized festival in honor of Saint Anthony (guests waiting for the fun and tasting of sardines).
Address: Terreiro da Se.
The cable car Teleferico de Gaia
Deciding to take a ride in a cable car cabin (seats up8 people), travelers in the scenic path will be able to admire the bridge of Luis I, the two banks of the river, traditional boats with wine barrels rabelos.
Tickets: path in the direction of 1 - 5 euros / adult, 2.5 Euro / 5-12 year-olds; round trip - 8 euros / adult (children - 4 euros). It is worth noting that when buying a ticket will grant you an invitation, allowing free wine tasting in one of the cellars of Vila Nova de Gaia.
Hotel Mercure Porto Batalha
The hotel is remarkable in that it offers a panoramic restaurant, which serves Portuguese and European dishes (there is a la cart menu and fine wine list).
Address: Praca da Batalha.
Luis I Bridge
Bridge, acts as a sort of lookoutsite (its height - more than 44 m), allows you to passing and walking (footpaths are laid on the lower and upper levels) for him to admire the panoramic views of the river Douro, the cities of Porto and Vila Nova de Gaia.
How to get there? It is best to get on the subway to the station Sao Bento.
River tour
Another opportunity to admire the harbor with itsbridges, as well as the neighboring towns - to go on a walking tour of the Douro river (depending on the duration of the tour will cost at least € 10).
Photo