Porto Airport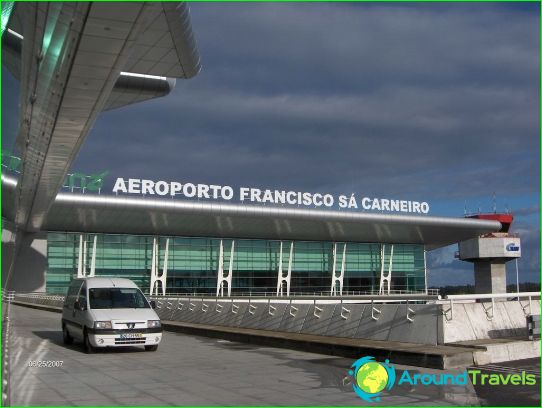 Porto Airport is located in the north-westpart of the city. By its capacity the airline is able to serve more than 6 million passengers a year. The airport cooperates with more than 20 airlines of the world, including with Russia's Transavia, Transaero, the S7 and others. Daily flights depart from here to more than 75 destinations around the world. Reinforced runway airport has a length of 3480 meters.
Facilities and Services
At the airport, all the conditions for comfort andpassenger safety. Very simple navigation scheme. Everywhere there are signs, movement scheme and informational announcements in two languages. In addition, work information service, where you can order a translation of the text, if something is not clear.
Passengers are offering their services to the hotel complex, mother and child room, ATMs, banks, exchange offices, post office.
Arcade duty free shops offering goodsa wide variety of customers, ranging from amateur wine-vodka products, wanting to taste the famous Portuguese wine, finishing with toys for the youngest travelers.
In grocery stores represented a wide variety of cheese and sausages, and numerous cafes amazing abundance of sweets.
Who just relax from the bustle of the stationThey can stay in the comfortable lounges or sit in an Internet cafe, where refreshing drinks. It should be noted that the free Wi-Fi is available only for half an hour, all the rest of the free access only to the official airport website.
Transport
The most popular among tourists in Porto trucks- Is the subway. As it is next to the airport. Just take the train, after buying a ticket at the ticket office at the station or from the vending machines located on the platform, and eat to your destination. The cost of one trip on the subway - 1.85 USD, 24 hour ticket on the metro costs 7 USD Trains run at intervals of 20 - 30 minutes.
Besides the metro from the airport run regularlyCity bus number 3M, 601, 602 and 604. But to get them to their destination much longer. Bus ticket costs 1.8 USD Tickets can be purchased at the kiosk in the parking lot, or from the driver.
For those traveling with heavy luggage, round the clock taxi. Trip cost about 20-25 USD
Photos Porto Airport