Porto Metro: map, photos, description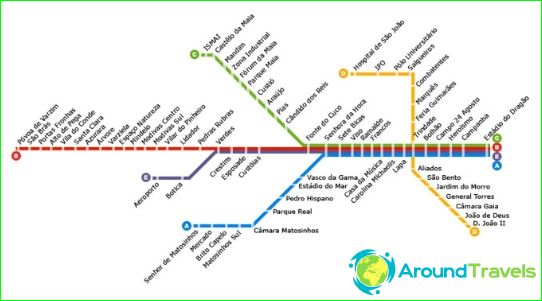 Driving Porto subway
Porto Metro - is a network of light metro, which runs underground in the heart of Porto and the above ground in the suburbs of the city. Porto Metro was opened in 2002.
Porto Metro has 6 lines and passes in sevenBig cities Porto Porto, Vila Nova de Gaia, Matosinhos, Vila do Conde, Vila Nova de Gaia, Maia, Matosinhos and Povoa de Varzim. Currently it is a station 80 km and 70 lines. Most of the railway system is at ground level and on the ground, and only 8 km is underground.

Porto subway lines
Line (blue line) between Senhor de Matosinhos andTrindade in central Porto was the first section of Porto subway opened in 2002. In 2004 the line was extended to the Estádio do Dragão, in time for the World Cup for the Euro 2004 football.
April 14, 2005 Line B (red line) was opened. The same day, a concert hall Casa da Música (Music House) was opened, which is now close to all metro lines are ABCEF station.
Line C (green line) was launched July 30, 2005, it allowed the citizens to get to the center of the Maya.
Line D (yellow line) was the mostproblematic project and was opened in 2005. The line runs from Joao de Deus and innovator of Vila de Gaia in the south to the intersection of the Douro river and through the center of Porto to the hospital of San Juan in the north.
Line E (Purple Line) was opened on May 272006 and joined the Francisco Sá Carneiro Airport and Campanhã. A few weeks later, the line was extended to the Estádio do Dragão. The journey from end to end takes 33 minutes, followed by a train every 25 minutes.
Line F (orange line) opened January 2, 2011, connects the center of Porto with Gondomar areas in the east.

Tickets for Porto subway
Payment of travel Porto - pozonnaya. The Port operates ticketing system "Andante", through which you can buy single tickets and replenish tickets, valid on all modes of transport including cable cars. Tickets are scanned at the beginning of a trip to the turnstiles located at subway stations. On routes operate controllers.
Porto Metro Trains easy use modernEurotram. The new FLEXITY Swift trams are used on line B, BX, and since 2008 periodically and on line C. The speed reaches 100 km / h. Eurotram consists of four parts - two sites in each car of short passes. Capacity - 80 seated and 134 standing passengers.
Photos Porto subway
Driving Porto subway