Taxis in Porto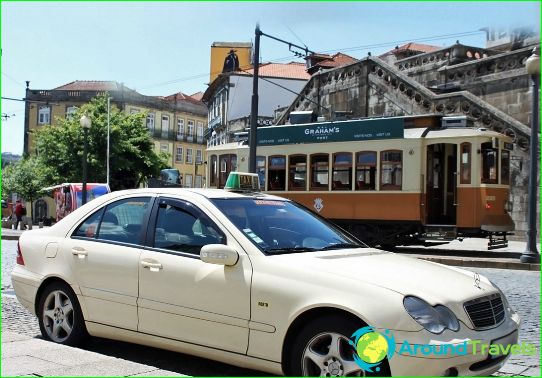 Taxi Porto is relatively inexpensivemeans of transportation around the city ( "Mercedes" prevail in the taxi park) they represent a car in which the meters are installed. Seeing the glowing green light, you'll see that the machine is busy, and the driver is not ready to take you on your address. In appearance a taxi in Porto - it is beige or black vehicles with a green top.
Taxi services in Porto
On the streets of the city are not taken to stopcars - drivers just do not stop. In the search for a free car you can go on equipped stoyanki- note that you can not get into the first car: it is necessary to comply with the order.
And you can call a taxi by phone (single servicecall taxi in Portugal - + 351 707 277 277) - note the taxi company "Taxis Invicta", contact the dispatcher service where you can call 22 507 64 00, 934 772 174, 968 520 064. If you order by phone, if necessary, Manager should inform you that you need a high-capacity cars (for 7-8 people) or cars adapted for the carriage of persons with disabilities.
If you previously did not bother about the transfer ofairport to the hotel, then upon arrival you should go to the parking lot located here and defend a small queue as soon as it comes your turn, the driver will ship your bags in the trunk and take you to your desired destination.
The cost of a taxi in Porto
"How much is a taxi in Porto?"- It is a topical issue for all who rest in this Portuguese city. Would you like to receive representations about the prices in the local taxi? Check out the information below:
planting costs - 1.20 euro each and kilometers - 0.50 euros;
country trips are charged at the price of 1.8 euros / 1 km and night trips cost 20% more expensive than day;
surcharge for waiting - 15 euros / hour, and for the transportation of luggage and pet - 1.60 euro / place.
It is worth noting, if you ask them to call for youHotel staff car, bars, restaurants and other entertainment facilities, the cost of your trip will be added to 0.80 euros. The average journey within the city center is no more than 5 euros and the fare from the airport to the center of Porto will give you about 30 euros.
Despite the fact that the law obliges the Portuguesetaxi drivers have change from 20 euros, with all the same should be small bills in case the driver will tell you that he has nothing to give change. How to get paid for meter readings, so at the end of the trip you must obtain the driver checks for payment.
As the cultural capital of Portugal, Portooffers its guests to visit the theaters, museums and concert halls, access to which, as well as other attractions, it is most convenient to the local taxi.
Photos taxi Porto