Beaches in the Algarve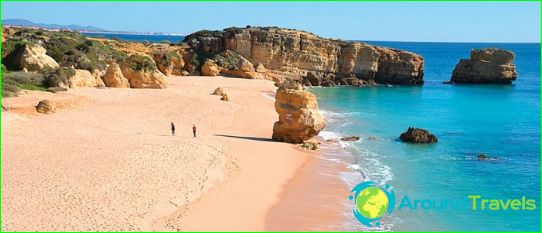 Beautiful beaches, endless stretchprocession along the Atlantic coast, form the most famous resort area of ​​Portugal - Algarve. Beaches in the Algarve are ready to offer any kind of relaxation to its guests. Like to swim long distances, a quiet fishing or just sit back and watch as the waves slowly rolled on the sand, then the Algarve, this is the place that is most certainly worth a visit.
Falesia Beach
Three kilometers of white, like flour, sandsurrounded by cliffs absolutely fantastic colors and shapes. They are reminiscent of red and white African zebra, back, which is crowned with the centenary pines. The local landscape for a long time remain in the memory of travelers.
"Beach Boat"
It is also called "Fisherman's Beach". Fishing boats, painted in different colors, are scattered throughout the beach area, but it does not prevent the rest, and just makes this place quite unique flavor.
The water here is crystal clear, so evidenteven the small pebbles on the bottom. Ocean completely calm and leisurely lazy wave incident on the sandy beach. There are quite a variety of celebrations and numerous festivals.
Beach "Rocks"
This beach area is in the top 25 best beaches in the country. The beauty of this place captures the imagination for a long time. The beach is surrounded by thick rock, under the pressure of the ocean turned into a huge arch.
Beach Dona Ana County
This beach is the perfect place where you can finerelax with the whole family. The infrastructure of the place includes everything necessary for comfortable carrying out of time. Huge umbrellas under which you can escape from the hot rays, comfortable sun beds, beach bars and, of course, the rescuers.
Beach San Rafael
Another beach location that is suitable for families with children. Of course, this is not "plunge", but a gentle entry into the water, combined with soft sand - a perfect combination for kids games.
Figueira Beach
This place enjoys enormous popularityamong active young people and hunters for big wave, but also will be of interest for scuba diving. There are many interesting places to dive. For example, Boc do Rio can be found on the remains of a warship belonging to the French fleet of the XVIII century.
Clear water provides excellent visibility, so you can smoothly watch the natural life of the inhabitants of the ocean depths and admire the magnificent coral gardens.
For travelers who prefer getting a tan completely naked, very like it here. two official nudist beach is located in the Algarve:
Praia do Barril in Tavira;
Praia sales-Adegash in Odeceixe.
Many beaches in Agarve awarded the prestigious "Blue" flag, supporting clean the environment of the area.
Photos Algarve beaches