Portugal Beaches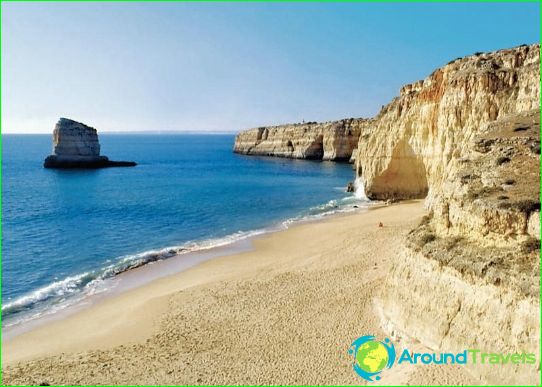 Almost all Portuguese beaches are allrequired for a first-class holiday. But if the tourists have a desire to retreat from the daily hustle and bustle, you can enjoy the sun in places where there is nothing but pristine nature. The best beaches are located on the peninsula of Troy Riviera Lisbon and the Azores - in the town of Santa Maria, and San Miguel.
Most travelers find that mostbeautiful beaches are located in the south - in the Algarve. This is one of the main resort areas, because there are tourists waiting for the best sandy beaches of Portugal, which stretched from Monte Gordo to Lagos. The air temperature in the Algarve in the summer above 30 degrees, and come to rest all year round.
Popular beaches
Not far from the resort town of Portimaolocated beach Praia de Rocha. It is offered to all travelers quite a wide range of entertainment activities both day and night. This is the most beautiful beach of the Algarve, where the unusual scenery diversify the rest and make it unforgettable.
The most popular beach in Albufeira is the Praia dos Barcos. It is located at the foot of the city. This name was given numerous beach boat fishermen, the bottoms of which are dried at the beach.
Portinho da Arrabida - a small beach,which is located in a bay with blue water. It provided an excellent opportunity for swimming and diving. Not far away is the Coelhos beach with golden sand. Perhaps two of the most peaceful places around Lisbon. But the bad thing is that tourists will not be able to get there by public transport, only on the car on the narrow roads. Nearby is the beach Picisnas, which is surrounded by tall pine trees and is just perfect for long walks by the sea.
Not far from Lisbon, there is another beautiful beach- Guincho. However, there is sometimes windy, powerful big waves. It was here that runs the world championship in windsurfing. The most clear beaches, according to tourists is considered Meco.
One of the best artificial beaches in MadeiraCalheta is a golden sand. It is very popular among tourists. The unique location is the beach Praia da Faja do Cabo Girao - under the same rock. He can be reached by going down the cable car. Here, travelers will have the opportunity to see the whales and other marine life.
Photos beaches of Portugal