Best Resorts in Portugal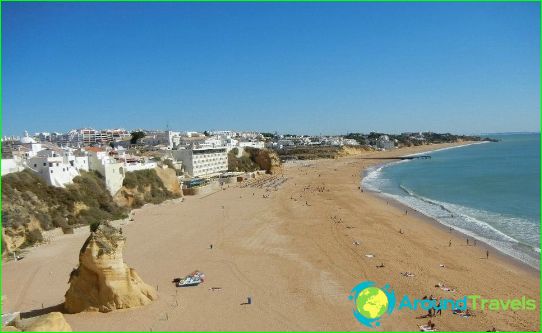 Portugal - a country that according to the mostfamous tourist publications, each year is traditionally among the top 10 most visited sites in Europe. A huge number of tourists and is a true "guarantee of quality" wonderful holiday spent in this country. Best Resorts in Portugal - a magnificent nature and architecture, excellent service and friendly atmosphere - all these factors have full Portuguese resorts.
Azores
Azores located in the AtlanticOcean, are an example of resort life, and like a huge magnet for many tourists. Azores archipelago, which consists of nine islands, surprises its visitors with the natural beauty. In addition, there is a fairly mild climate.
Fans of diving with scuba diving on the island entailsdiversity of inhabitants of the ocean floor, as well as the unique flora of the ocean. On the islands you will have the amazing opportunity to watch sperm whales. Whole Island neighborhood became a residence for the 23 whale species. Dolphins also frequent visitors to the archipelago waters. In coastal waters, grow amazing coral gardens, which have become home to many colorful inhabitants of the ocean floor.
Albufeira
This, in the recent past, small fishingsettlement to date - the most visited resort in Portugal. Pine forests and orange groves, beautiful clean beaches attract many tourists from all over the world.
The resort infrastructure is well developed and well thought out. Many restaurants, huge shopping centers and boutiques, nightclubs and chic discos will not allow to get bored for a second.
Lovers of active leisure will have access tohis favorite sport, and will be able to go sailing, windsurfing or diving. If desired, you can ride a jet ski or catamaran family.
Cascais
Cascais is a real "youth"resort. There are a huge number of discos, bars and entertainment centers, which was the cause of its sheer popularity. Recreation enthusiasts are choosing an active nightlife.
But even in Cascais and the magnificent beaches,stretching for several kilometers. The most popular is the beach Guin, where the highest waves in the neighborhood. So he becomes a gathering place for all local extreme: surfers, windsurfers, kitesurfers and other fans to tickle nerves.
For a more relaxing pastime is to select some other beach. By the way, they are all well equipped and have their own well-developed infrastructure.
Photos of Portugal resorts