Christmas in Portugal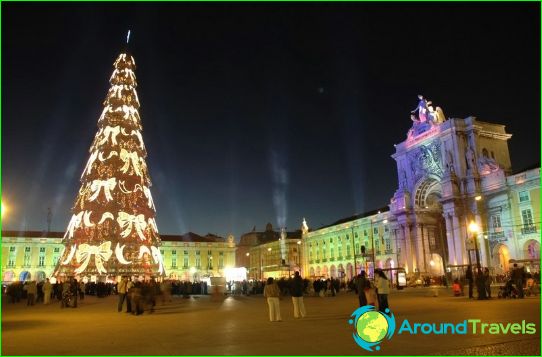 The small size is the Western stateOld World, Portugal as significant by the number of points of interest, landmarks, delicious food and natural features, which is able to claim the role of the main tourist areas of the winter holidays. The idea of ​​spending Christmas in Portugal - interesting and unusual, but it is quite feasible, given the reasonable prices for hotels and the legendary hospitality of the locals.
Christmas at the castle
The rich historical heritage in a hurry to showthemselves already at the reception at the hotel. There are dozens of hotels, which are equipped in old castles. To live in these extremely romantic, and with the onset of Christmas every hotel turns into a fairy-tale palace.
Tour the country should start with a capital. Lisbon is situated on seven hills, and its streets are a series of steep climbs and descents. The walls are decorated with handmade tiles, each of which - a real masterpiece, but because it is impossible to find the same. The main architectural feature of the capital of Portugal - Castle of St. George, built in the twelfth century. He only survived the devastating earthquake, cover the country for almost three centuries ago.
Christmas in Portugal - a glorious culinarytradition, according to which the hostess prepared some special dishes. Dinner begins with Bakalyan - salted cod, which serves as a symbol of abundance and prosperity in the country of fishermen. At Christmas, in Portugal it is served boiled with potatoes and cabbage.
Modern trends can replace codpork or octopus, but the true spirit of Christmas can be felt only tasted Bakalyan. For dessert, served kings cake, reminiscent of the outer corona or wreath and decorated with candied fruit, nuts and caramel.
The next day, the Portuguese are sent to visitparents and friends, and tourists - to see the sights and taste the most important drink, come from a country of great navigators. This port is prepared here, so another holiday attribute becomes golden and fragrant bottle of wine from the city of Porto.
Avenida dos Aliados - street in Porto, wherelocated the main wine cellars of the country. In the suburb of Vila Nova de Gaia opened port Museum, whose exhibition is an indispensable item in the list of places worth visiting for Christmas in Portugal.
Photos of Christmas in Portugal