Coast Portugal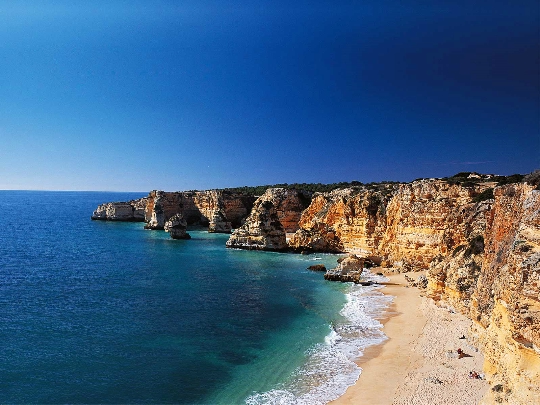 Portugal's coast is not yet overcrowdedRussian travelers, so you can safely go here, not to line up to the loungers on the beach and take part in the excursion programs, tour operators developed specifically for curious tourists.
Portugal resorts on the coast (the benefits of rest)
On the South Coast (Algarve) Touristswaiting for many kilometers strip of beaches (Praia dos Barcos, Praia de Rocha); Madeira - waterfalls, mountain streams, untouched flora and fauna, extinct volcanoes, small beaches, fishing, golf and windsurfing; the Lisbon Riviera - many bars, entertainment for all tastes at Estoril and Cascais; Azores - diving on the island of Pico (in local waters are found fish-parrots-needle fish, gray, flip-flops, barracuda, gray groupers, as well as during the dives you can do the study of caves), a beach holiday on the islands of Sao Miguel, Faial and Santa Maria.
Cities and resorts on the coast of Portugal
Cascais: here it is necessary to look at the beaches Guinn (due to high waves on the beach conditions for kiting and surfing) and Torre (tourist there is a café, hiring stations, showers and changing rooms, and to ensure the safety of tourists on the water rescue team located here) , explore caves Poco Velho, visit Marine club (willing to teach the basics of scuba diving, arrange for their night fishing and paragliding) and open-air concerts in Palmela park.
Funchal: the city offers tourists to visit the Botanical Gardens ( "Orchid Garden", "Jardins Botanicos da Madeira"), Praia Formosa (it is equipped with a ramp for skateboarding, cafes and bars, showers, toilets, changing rooms, parking spaces, item of sporting equipment rental, playgrounds for children), a pool complex "Ponta Gorda", explore the palace-fortress of St. Lorenzo.
Albufeira: Resort offers admire the Clock Tower, visit the beaches of Inatel (appeal to those who prefer to relax away from the crowds), the stub (on the sandy beach can be reached through the tunnel between the rocks), Peskadoresh (along the coast, you can take a ride on a boat), the park " Zoo marine "(there are rides, a petting zoo, displays shows featuring wild birds, dolphins and sea lions), off on a fun theme parties and enjoy signature cocktails in the club" Steps ".
While vacationing in Portugal, you will be able to enjoy the wonderful climate, unique cuisine, charming towns, world-class beaches (there are sand, stone and lots of pebbles).
Photo