The traditional cuisine of Portugal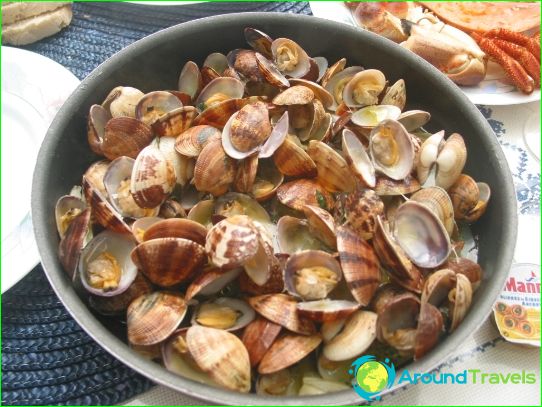 Meals in Portugal is characterized by the fact that the local cuisine, though fairly simple, but very tasty.
Since the Portuguese cuisine is based on thecooking fish, you will be able to enjoy a range of fish dishes (mackerel, cod, sardines, trout, grouper), cooked in various ways (there are more than 300 ways).
Food in Portugal
The diet consists of Portuguese soups, fish, seafood (shrimp, lobster, cuttlefish, lobsters, crabs), vegetables.
In Portugal, should try to be sure to soup,prepared on the basis of spicy smoked sausage, potatoes and cabbage (caldo verdo); soup with clams, which is added to the wine (sopa de mariscos); dried cod (bacalhau); dish based on different types of fish and shellfish with the addition of tomatoes, potatoes and onions (caldeirada); grilled chicken in Portuguese (pre-marinated chicken in chilli and garlic); roasted chestnuts; Carrot and orange cakes.
Where to eat in Portugal? At your service:
cafes, restaurants and snack bars where you can enjoy, both local and international cuisine;
Fast food restaurants (McDonalds);
cafe where you can order lunch (this is especially true for those who appreciate the economical dining options).
Drinks in Portugal
Popular Portuguese drinks are juices, carbonated fruit drinks, coffee, white and red wine, port, cognac.
Since the country produce different varieties of port, it is worth trying Tawny, Vintage, Ruby, Late-Bottled Vintage.
In the bars and restaurants in addition to the wine in the bottle-version, you can order the house wine, which is usually sold on tap and served in carafes (house wine will cost you cheaper than bottled).
Lovers of red wine worth trying Dao, White - Colares and Bucelas, a sparkling rosé - Mateus Rose.
Gastronomic tour in Portugal
Embark on a gastronomic journeyPortugal, you will visit the local restaurants and family tavernas where you can taste the local cuisine, as well as on local farms, where you can see firsthand how the delicacies created.
If you go in the Alentejo region in the framework of a gastronomic tour, you will be able to enjoy the unique cheeses, wines and amazing olive oil (all of which is produced in the region).
If your gastronomic tour will begin inLisbon, you will visit the city tour and tasting dinner, where you will be served popular Portuguese dishes and wines. The next day, you will be offered a trip to the local grocery market with the chef, who subsequently hold for you a master class and tasting of the prepared dishes.
On vacation in Portugal, you can not only relax on the sandy beaches, take a stroll through the ancient streets of the mysterious, but also serves surprisingly good food!
Photos of Portugal national dishes