Railways Portugal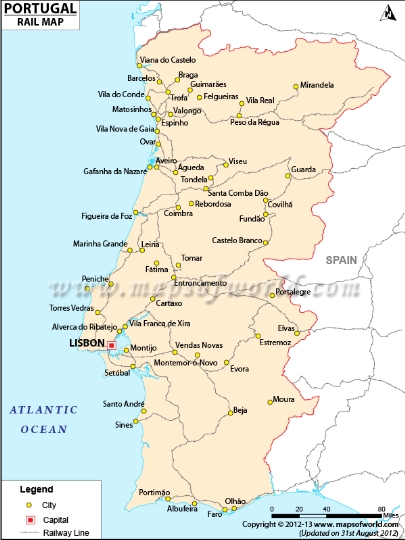 Railways Portugal matchinternational service quality criteria. The railway network began to take shape in the country in 1844. Today, its density is 30 km per 1000 sq. km. National Company Comboios de Portugal is a monopolist in the railway sector in Portugal. This is the main carrier in the country's railways.
Portugal area is not very large, and trains and buses are equally popular. At some point it is more convenient and faster to travel by rail.
Portugal train
the country's railways system ismulti-stage, extensive and well-developed. In the densely populated suburbs Urbano shuttle train. On the periphery are moved Regional compositions make stops at each station. Tickets for commuter trains comparable to the Russian electric prices. Train tickets can be purchased at vending machines, ATMs and ticket offices located at railway stations. Many people prefer to buy railway tickets on the site state-owned company Comboios de Portugal.
The country uses AP high-speed trains,intercity IC compositions, regional and interregional trains R and IR. The high-speed trains, there is a division into classes: 1st - Conforto, 2 nd - Turistica. When you purchase a special ticket is allowed to transport bicycle. Safe and comfortable journey guaranteed to clients who have bought tickets on the train Alfa Pendular. It accelerates to 220 km / h. Portuguese train a high level of comfort. The total length of the country's railways is more than 2,500 km. Three railway border crossings are between Portugal and Spain. The main international route passes through Walesa station, which is on the north of the country.
Train tickets
Fare is largely determined by the degreecomfort. Passengers purchase their tickets at the box office, machines and www.cp.pt. site If the station ticket office is absent, the tickets can be bought from the train controller.
In Portugal, there are major and minorRailway and train in different categories, from low speed to high speed. Grading is carried out according to the degree of comfort, the distance between the end points and speed. Alfa Pendular trains belong to the highest category. They are the most high-speed and convenience. Lines, which are moved Alfa compositions, starting in the north of Portugal and go to the southern point. High-speed routes are in all major towns of the country, including Lisbon, Coimbra, Aveiro and others.
Photo