Islands of Portugal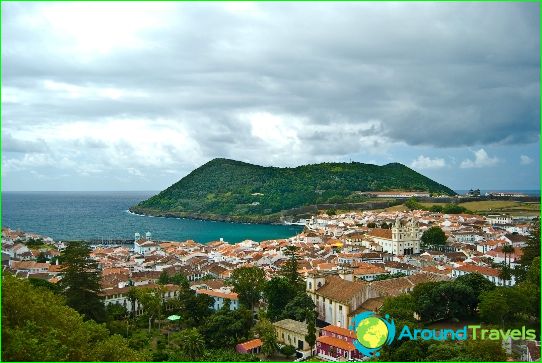 Western section of the Iberian PeninsulaPortugal takes. This country also belong to the island of Madeira and the Azores. Madeira is an archipelago located in the Atlantic Ocean. From the main part of his country's 1,000 kilometers separated. It consists of the island communities of Portugal - Porto Santo and Madeira, as well as small areas of land uninhabitable.
General characteristics of the islands
Madeira has a mountainous terrain. Its highest point is Mount Pico Ruivo, reaching 1861 m. The main town of the island is Funchal. Madeira grown pineapples, bananas, sugar cane and grapes. Transoceanic communication and tourism form the basis of the island's economy.
In the North Atlantic are located other islandsPortugal - Azores. They form an archipelago off the coast of 1,300 km. These islands are of volcanic origin. The largest islands of the country are considered to Pico, San Miguel, San Jorge, Terceira, Flores and Faial. The highest point of Portugal is considered to Ponta do Pico Alto. It reaches a height of 2351 m. Earlier, residents of some islands kitoboystvom engaged, but after reduction of whale stocks, their fishing has been banned. The current population of the Azores engaged in tourism, fishing and agriculture. These islands are considered unique because of the beautiful nature. There are beautiful lakes, volcanic formations, verdant hills, flowering plants, the ocean water.
The largest island of the archipelago - San Miguel. Its attraction is the Sete Sidades - crater, surrounded by lakes. The island is known for its sulfuric Grasoze cave and underground lake. The cave, formed after the eruption of the volcano, located on the island of Terceira. The cave has stalactites, stalagmites and underground lake. Near the lava cave located sulfur spring. Flores Island is remote from the mainland on the other. He became famous waterfalls, extinct volcanoes and lakes. Islands of Portugal attract travelers old buildings, churches and cathedrals. For a beach holiday suited island of Santa Maria, Faial, São Miguel. There are sandy beaches, covered with lava.
Climatic conditions
Weather in Portugal corresponds to the subtropicaltemperate climate. Mediterranean climate prevails in the south and in the north - the sea. Moist ocean winds cause mild winter and warm summer. The vegetation cover varies in different parts of the country, which is determined by the different climatic conditions. In Portugal, there are deciduous evergreen forest, oak forests, bushland, alpine meadows. On the coast is dominated by the flora typical of the African coastal strip. There are growing cacti and agave.
Photo