Cuisine of Portugal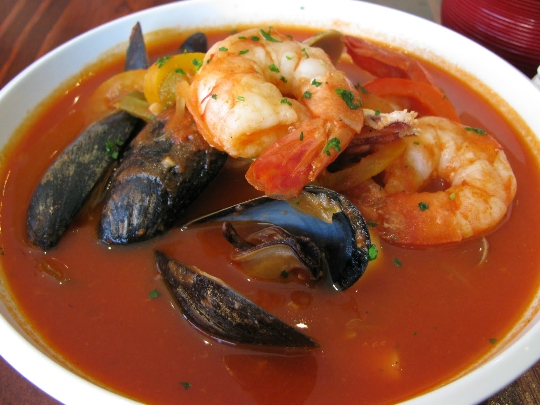 Cuisine Portugal - it is quite simple to prepare, but hearty (the main direction of the local cuisine - fish cooking).
National cuisine of Portugal
Particular importance is given to the Portuguese cuisinesoups (the locals eat them daily) - Fish and "green" soups with fresh vegetables (try the "Caldo Verde" - a thick soup with potatoes and sauerkraut). Here prepare and meat dishes with the addition of herbs, garlic and other spices. As for snacks, they are represented in the country of olives, local cheeses, fish pate, meat and fish croquettes, dumplings with shrimps.
We should also mention the kitchen Madeira: here in the premium fish, seafood, fruit and local spices (worth a try swordfish prepared in different ways).
Popular Portuguese dishes:
"Kataplana" (fish soup with seafood and different types of fish);
"Borrego" (roast lamb);
"Bakaldu and Bras" (salt cod fried with potatoes, eggs and onions);
"Ameyzhuash and Balian Pato" (steamed mussels cooked with white wine, garlic, olive oil and coriander);
"Betah" (cutlet of beef or pork).
Where to try the national cuisine?
We are going to visit national restaurantsshould take note: the dishes on the menu are in 2 categories - "peixe" (fish) and "carne" (meat), and the side dishes are usually not specified, but always included. As for the portions of food, they are not small, so you can safely order one dish for two.
In Lisbon, you will find "Faca & Garfo" (restaurantspecializes in homemade Portuguese cuisine, where the mistress of places to everyone gives advice about the choice of dishes) and "Ha Piteu" (serving the northern and southern Portuguese cuisine and here guests recommend prepare themselves beef steak on a hot stone), in Porto - "Cafe Santiago "(here guests are offered to eat typical for the region Porto dish - francesinha, which is a toast with sausage, melted cheese and tomato sauce, whose top is decorated eggs), in Albufeira -" O Manjar "(from Portuguese dishes this restaurant is famous for its steaks getting ready in wine sauce).
Cooking classes in Portugal
At the one-day cooking classes wishinginvited to the restaurant "Assinatura" (Lisbon), the chef (Henrique Moura) together with the "students" go to the organic market, and then hold for them a master class, and then be followed by a dinner and wine tasting in conjunction cooked dishes and Portuguese wines.
In Portugal, you can arrive to takeparticipated in the celebration of street food festival (Estoril, April), Festival of the fish (Lisbon, April), Festival of Chocolate (Obidos, April), during which you can not only enjoy the taste of a variety of chocolate treats, but also admire the sculptures out of chocolate.
Photo