Demographics of Portugal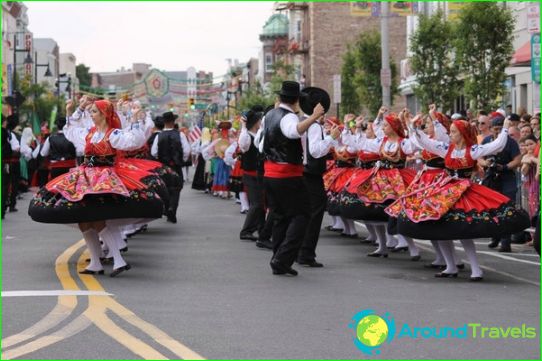 Portugal has a population of over 10 million people.
The most ancient inhabitants of Portugal were Iberians. But in the face of modern Portuguese strongly influenced by the Celts, Greeks, Romans, Phoenicians, Arabs, Germanic tribes, including the Alamanni and the Visigoths.
National composition of Portugal:
Portuguese (99%);
other nations (Spanish, Brazilians, Africans).
70% of Portugal's population inhabit seaside area where the developed cities and resorts, and hence more opportunities for work and life.
In the 1st quarter. km is home to 116 people, but in some southern areas of population density in the 5-10 times lower than in the western coastal areas and islands, and the most populated coastal area with Porto, Lisbon and Setúbal.
Official language - Portuguese.
Big cities: Lisbon, Porto, Coimbra, Braga, Amadora, Setúbal Queluz Funchal, Vila Nova de Gaia.
Most residents of Portugal (94%) profess Catholicism, others - Protestantism, Islam.
life expectancy
On average, Portugal's inhabitants live up to 80 years old (female population lives to 82, and men - to 77 years).
Despite the strong performance in PortugalHealth deducted $ 2700 per year for 1 person (the European average $ 3,700 allocated to this expense item). In addition, the Portuguese considered one of the most drinking nations in the world (in terms of per capita consumption, Portugal is in the top 10 of the countries of the world). With regard to the consumption of alcoholic beverages, the country is at the end of the list. But the Portuguese smoking several times less than the Spaniards, Greeks, Russians and Ukrainians, and obese in the country to 15%.
In general, health care in Portugal is at a high level - all medical facilities are well equipped and are working closely with leading international insurance companies.
The traditions and customs of the inhabitants of Portugal
The Portuguese national honor traditions that can be traced in the celebration of international and national festivals.
Portuguese favorite religious holidayChristmas is - on this occasion they put on the table, roast turkey, cod dishes, pastries, set in the homes of the Christmas tree and the figure of Santa Claus. At least favorite holiday is Carnival, which is accompanied by carnivals and street dancing. In addition, arranged a competition between the samba dancers.
Portuguese - quiet, stately and dreamy people, if they will have the choice to relax actively or passively, they will prefer the latter.
Of interest are wedding traditions: Portugal widespread early marriage (the average age of the bride - 16, and young people - 19-20 years old). The pre-wedding week, the bride should spread the relatives and friends an invitation to the wedding: with the invitation it should deliver freshly baked bread. And invited, in turn, should give her a gift in the form of tablecloths, towels, bed linen, etc.
If you are invited to visit the Portuguese, do not forget to buy a gift for the owners of the house - flowers or a souvenir from their country of residence.
Photo