Prices in Portugal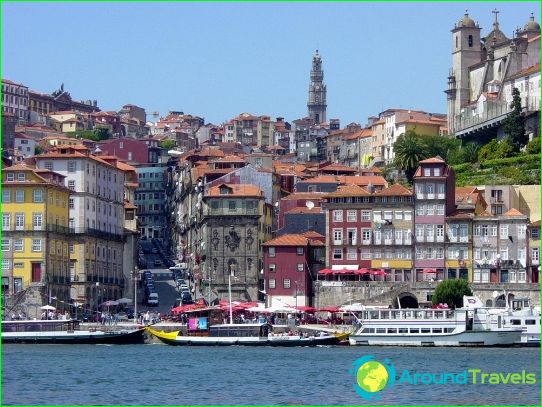 According to seasoned travelers, the price in Portugal is lower than in Spain and especially Italy.
Shopping and souvenirs
High-quality shoes, clothing, leather andsouvenirs make Portugal a popular destination for shopping. For leather goods advisable to go to the north of the country, particularly in Porto, and for the quality of footwear - in small boutiques in the city center. As for clothes, then in Portugal can be purchased at attractive prices, local brands - Aldo, Dom Coletto, Bianca, Salsa, Lanidor, Tiffosi.
For a bargain purchase in the country it is advisable to come to the sales season (the beginning of January - end of February, beginning of August - end of September), when prices reach 30-80%.
What to bring from Portugal?
cork products (wallets, bags, cards, umbrella with a handle made of cork), soap, lace, wicker and leather goods, clothing and shoes, gold jewelry;
port, Madeira, coffee, cheese.
Cork products can be purchased in Portugal5 euros (cork bag costs 30-50 euros), coffee - 10 euros / 200 grams, port - from 3 euros, a figure rooster - 2 euros, olive oil - 3 euros / bottle, leather goods - from EUR 30 , ceramic products - for 5-25 euros.
Excursions and Entertainment
On a tour of the port, you will be able towalk around the Ribeira district, see the Cathedral of the XII century, bridges, Clérigos Tower and visit the wine cellars Ferreira and taste the national drink - port. The tour is about 35 euros.
If you're in Santana, visit a theme parkMadeira with its interesting exhibitions and multimedia shows. In addition, there are gardens, shops, restaurants, children's playgrounds. And you will have the opportunity to look at how the local handicrafts are made and to ride on the model of the old mining train "Monte". The cost of recreation - 25 euros.
Transport
ticket prices for public transport dependsthe number of zones crossed. For example, for travel in the Lisbon metro within zone 1 you pay 0.85 euros, and at the intersection of two areas - 1.2 euros. But it is more convenient to buy travel card, valid for 24 hours - for 4 euros you can ride an unlimited number of times.
As for the bus and tram, the fare on these forms of public transport in Lisbon you pay 1.4 euros.
When traveling on the Portuguese city by taxi you pay 2.5 euros (landing) 0.4 EUR (per kilometer). For example, the trip from the airport to the center of Lisbon will cost you 10 euros.
Minimum daily on holiday spendingPortugal amount to 30 euro for 1 person (accommodation in a youth hostel or campsite, self-cooking). But for a more comfortable stay, you will need 60-70 euros per day for 1 person.
Photo