Skiing in Portugal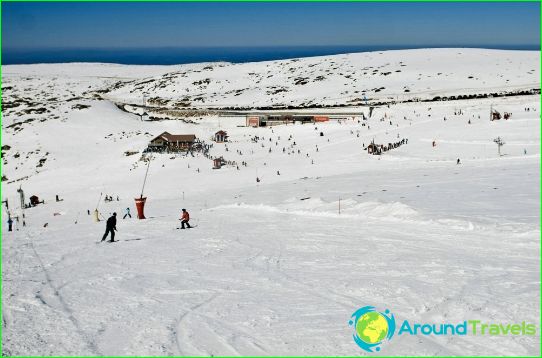 The relatively unpopular in the majority of tourists,visiting Europe Portugal still attracts travelers who prefer the city not too noisy and do not like the crowd in the streets and squares. That's why they come here romance, couples, single ... photographers and skiers. Portugal has left only one ski resort, but its level is sufficient in order to spend an active vacation, holiday or weekend.
The equipment and lines
Ski resort in Portugal calledSerra da Estrela and is located on the slopes of the highest mountain on the mainland on the plateau Meseta. The mild climate of this area makes it comfortable skating and snow - quite worthy. Nine tracks of the resort of Serra da Eshtrella equipped with the latest technology. Their total length is not less than nine kilometers away, and to the starting point can be reached with the help of nine modern lifts.
Half of all slopes of the resort is designed toathletes high level of training and solid "average performance", other routes will appeal to beginners. The youngest guests of the ski resort of Portugal with fun fun in the children's snow park with slides, rides and swings. Here you can ride on a sled and take lessons in the ski school instructors. Training is provided and the individual, and on 10 and 40 people groups. Price depends on the large number of groups.
Activities and excursions
Rich skating during the day requiresrelaxation and evening relaxation. The ski resort of Portugal took care of everything. Local restaurants offer to taste the best wines of the country, which is legendary. Madeira and port, dry and fortified wines - wines of Portugal will add a sophisticated note to any dinner. No less remarkable and the kitchen European state on the edge of the Old World. Enjoy its masterpieces can be in one of the cozy resort hotels Serra da Estrela, and in its restaurants. Relax after a strenuous hours on the slopes of the best in a hot bath or spa, and communicate with colleagues on a journey in a nightclub or disco.
Sightseeing Ski ResortPortugal includes a trip to the most famous cities of the country. You can go to the capital Lisbon and get acquainted with its medieval buildings and monuments, or visit Porto with its ancient towers and cathedrals.
Photos of Portugal ski resorts