South of Portugal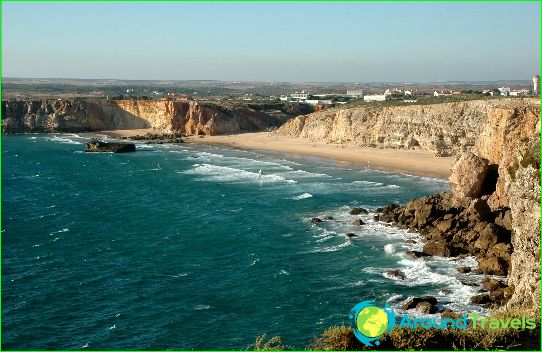 If you decide to go on holiday to the south of Portugal, you make the right choice, because here you will be able to:
- Soak up the stunning beaches and relax in the spa-centers (you can go through the procedure with the use of water from the hot springs);
- Engage in the study of caves and ancient castles;
- Fun in discos, bars and casinos.
Algarve in southern Portugal
Most of the beaches of the Algarve - is "availablebeaches "(here the conditions for travelers with disabilities) that have the ramps, walkways, toilets for disabled, first aid ...
As for leisure, in the Algarve, there areopportunities for yacht trips, windsurfing, sailing, deep-sea fishing, hunting sharks, water skiing, playing tennis or golf, a fun pastime in discos.
In the capital of Algarve - Faro, worth seeing churchSt. Francis and St. Peter's Monastery of the Assumption of the Virgin, to look into the local history or the Museum of Henry the Navigator. A 66 km from the city you can see the ruins of the necropolis Alkalar and the ruins of Roman settlements.
The resort of Albufeira offersrelax on the sandy beaches (some awarded Blue Flag) to visit pubs, boutiques, discos, the city art gallery, go diving or windsurfing. In Albufeira surrounding area Zoomarine water park, where you can come with your family to not only ride on a variety of attractions, but also to visit the marine zoo, see how trained dolphins and shows, which is attended by not only dolphins, but also seals.
Region Alentejo (Southern Portugal)
Start your acquaintance with the region is the city of Évora. Here you can stroll through the Giraldo Square, which is located in the city center. Also, here you can see the temple of Diana, the Roman aqueduct, the Cathedral Hsieh (here there is an observation deck, on which you can climb).
Active tourists can go for long walks across the plains and the hills or take a lesson in rock climbing.
In addition, they can take a trip in a rented car, so that during a trip to see the castles and chateaux, vineyards, meadows, olive groves ...
Tourists, romance can make a stop at theanywhere, since Sinisa (hence close to the ocean). Here they will be surrounded by a wide and wild beaches covered with golden sand and surrounded by rocks, which broke a huge wave.
It should be noted that traveling to the Alentejo region, you will be able to rent a room, house, villa or even an old castle from local farmers, cheese makers and wine producers.
South Portugal offers its guests enjoy the excellent climate, clean ocean, stroll through almond and olive groves, have fun in the water parks and amusement parks.
Photos of the South of Portugal