Taxis in Portugal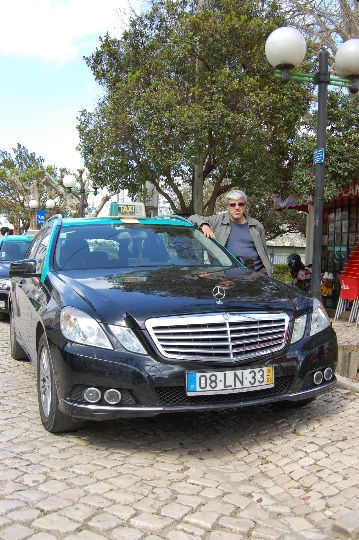 He founded a taxi in Portugal back in 1907Augusto Macedo, who bought a new car and began to haul people on it. As a 24-year-old man, Augusto paid a lot of attention to its passengers and with respect for everyone who went to his taxi. Over 69 years of excellent work Augusto won enormous popularity among many celebrities. Initially in Portugal was only one type of taxi - a black car with a green top. A little later, a black car joined beige cars. In modern taxi pools, mostly new Mercedes, at least you can see the cars of another brand.
Features Portuguese taxi
Tourists who have visited Portugal for the first time, verysurprised to see a long line at the airport beautiful beige Mercedes. It seems that this is a tuple of some prominent politicians awaiting someone's arrival. But in fact, so look ordinary taxis in Portugal. Cars in this class in the taxi - is not a luxury, it is compulsory measures for the Portuguese. After all, these machines are very reliable and comfortable, why use cheap low quality cars?
Catch a taxi on the street is quite difficult. You can go out and stand with his hand raised for a long time. The fact that taxis are focused on special parking lots, where you can take is not the first car you like. Taxi drivers strictly observe the sequence of travel. Therefore, you will need to get into the car, all of which make leaving.
If you are coming from the airport, you will be surprised how quickly served all lined up passengers. There are no hitches and delays. All work on the well-established pattern.
Call a taxi in Portugal, please call: +351 911 910 808 (Vodafone); +351 965 020 808 (TMN); +351 934 430 808 (Optimus).
The fare for a taxi is the same in Portugaleverywhere. Rates quite loyal. For taxi and landing you will need to pay about 1 euro. Over 1 kilometer will have to pay 0.5 euros and above. It all depends on what time of day you are traveling by taxi. From 21.00 to 6.00 acts night rate, prices are rising.
In Portugal, you can call a taxi elevatedroominess, which can go to 8 people. If you want, you have submitted a large car, then advance to arrange this with the taxi company dispatcher.
Photos Taxi in Portugal