Tourism in Portugal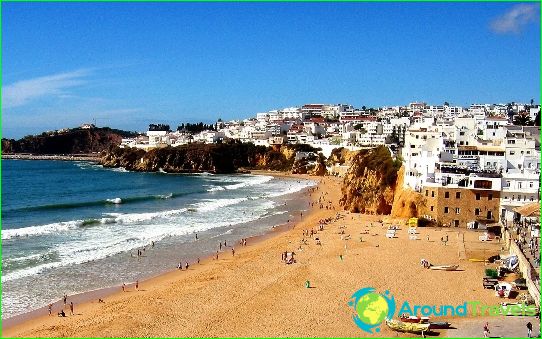 Relax in Europe's westernmost country willdifferent dimensions and tranquility. In Portugal, there are all conditions for quiet walks through the narrow streets of provincial cities, relaxed lying down on the local beaches, cozy evening gatherings in the maritime restaurant.
So far, this country can not make a realcompete with neighboring Spain, but the locals are not very much in this endeavor. They know that they have their own clients, travelers who do not need vanity and crowded. Therefore, tourism in Portugal is based on a democratic holiday at the prices calculated for different categories, including couples, parents and children, the elderly, which is recommended, and a warm temperate climate.
Beach holidays
The fact that all beaches in Portugal aremunicipalities, a good sign for a tourist, do not need to pay an entrance fee, on the other hand, if you want a comfortable stay under an umbrella on a lounger, have to fork out.
The beaches here to suit all tastes: covered with fine white sand or pebbles, in some resorts - artificial. Depending on this, tourists choose your resort vacationers with young children prefer sandy beaches for swimmers and looking underwater differences of impressions, a coating on the beach, no.
Time travel
Mistaken those tourists who come toPortugal is only vacation on the coast. The country is proud of its rich history and preserved monuments. Travelers will be able to see ancient palaces, cathedrals, fortresses preserved. In each of the major cities of Portugal has its symbols, the main attractions. Always the center of attention of the tourist:
in Lisbon - statue of Christ, but also the longest european bridge and beautiful arch decorated with statues and bas-reliefs;
Porto, the former capital city - the oldest botanical garden, and the most delicious drink, port, because there is his birthplace, as well as many restaurants, where you can enjoy wine tasting;
in Coimbra - fortifications, monasteries and near the place of pilgrimage of Catholics the world, the famous Fatima;
in Braga - the main religious shrine of the country, the Church of Christ-the Good-to-mount.
Not only large cities, but also the smallest villages have their monuments, sights and beautiful natural landscapes, which are also part of Portugal's national wealth.
Photo