Tours in the Algarve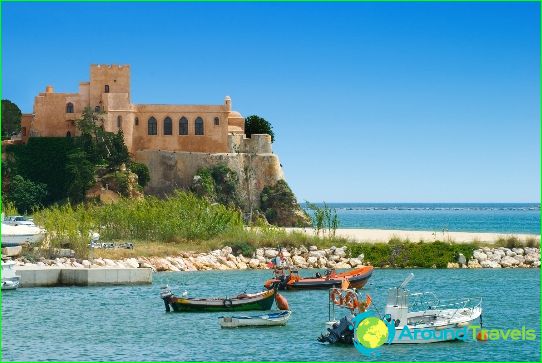 Portugal - is not only a rich excursionprogram, ancient architecture, tasting of the port and the world's best waves for surfers brave. Here there is a beach area where you can get a bronze tan, and all other related decent resort fun. Tours in the Algarve is selected and fans of the game of golf, because the resort is broken more than thirty international fields. In the autumn tournaments are held here, and the region twice been named the best golf resort in both hemispheres.
History and geography
Algarve - Portugal's southernmost province. On both sides of the area bordered by the Atlantic Ocean and beaches stretch almost along its entire coast. To the west is dominated by rocky areas of the coast, and in the east is more common sand.
The name of the region received from the Arabs, whohosted on these lands to the XII century. In Arabic the Algarve - is "a country located in the West." In the territory of the Kingdom of Portugal it was included in the XIII century.
Briefly about the importance
Direct Flights from Moscow - it is to charter capitalin the region of Faro. The second way to tour the Algarve - book a ticket for a regular flight to Lisbon, and then transfer to a plane or commuter bus, which covers the distance between the cities in about four hours.
Active tourists in between adoptionsunbathing visit neighboring towns and countries. Tours in the Algarve can be successfully combined with excursions to Morocco and Spain: the distances are short, and a visa into the country of oranges Russian tourists are required.
Home cooking feature of the resort - seafood. The freshest sardines and sea bass - highlight of the program of any restaurant in Albufeira and other coastal cities.
City of temples and monasteries
Participants tours in the Algarve and will certainly visitthe administrative center of the province, the city of Faro. There remained a few dozen monasteries, churches and chapels, old buildings, each of which is unique in its own way. Many monuments have the status of national heritage.
Once in Faro 7 September, guests get tonoisy and magnificent festival in honor of the City Day. The program - folk festivals, fairs and sales of products of local craftsmen, street dances and concerts, tasting of Portuguese cuisine and indispensable evening fireworks.
Photo