Transport in Portugal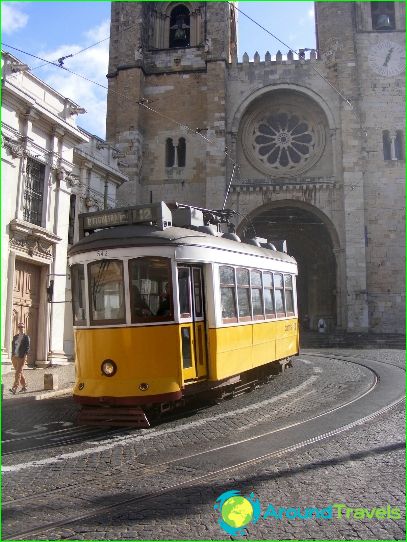 Transport in Portugal - a rather well-developedsystem. Since transport services in the country are provided mainly by private companies, the quality is very good (they compete with each other).
The main modes of transport in Portugal
Urban transport: He is represented by buses (carried out day and night flights), metro (Lisbon, Porto), trams, funiculars. For travel on buses and trams have to buy tickets from the driver or acquire a transport card which can be replenished as needed. And you can buy travel, valid for a few days and giving discounts at museums. To pay for travel on the subway, you need to use a special card. And, for example, in Porto, you can take a ride on a cable car: it connects two regions - Ribeiro and Batalha (payment is made in cash or by card Andante).
Aeronautical Message: domestic air traffic is developed rather weak, but those who wish to get from Lisbon to Madeira or the Azores, will be able to easily do it through here often make regular flights.
Railway transport: access to all major Portuguese cities can be a high-speed train. If desired, you can cross the country from north to south for about 6 hours while taking in the views of the mountains and ocean. Tickets (for children 4-12 years provides 50% discount) on the train are sold at the box office, vending machines, on the official website.
Taxi
Taxis are available at the special parking lot ororder it by telephone (additional charge) in special firms. At the green light, you can understand that the taxi is busy. It should be noted that travel at night and weekends charged at a higher rate (you pay about 20% more), and at the end of the trip the drivers decided to leave a little tip.
Car rent
Rent a car in Portugal, you canto get to the coast, to visit the mountains, monasteries and palaces. Take a car, you can at the airport on arrival, or in one of the rolling companies (Sixt, Interrent, Airauto). To do this, you (the minimum age - 21) should have an IDP and a bank card.
During a city tour should be followedparking rules - their violation punishable by a fine in the amount of 35-155 euros. It's worth noting that parking in residential areas, you must obtain permission from local residents. Keep in mind that the fare for many Portuguese motorways have to pay: Payment should be in cash machines or credit cards, but if you see a sign: Electronic toll only, then you can only pay electronically.
Due to good transport links between all corners of Portugal, travel around the country is easy and pleasant.
Photo