Holidays in Portugal in December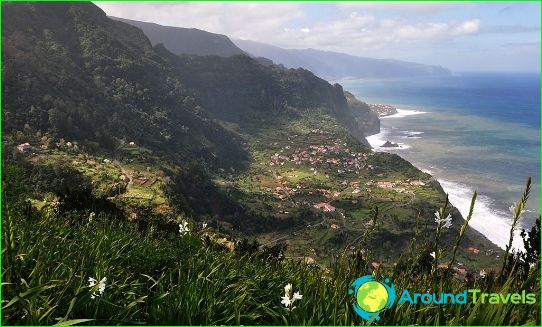 The first month of winter is marked in Portugalmoderate heat and reminds late autumn in Russia. However, in order to know what the weather conditions are established in every region of the country should know the features of climate.
The December weather in Portugal
In the central regions of Portugal almostcooler in comparison with other regions. The Evora air can warm up to + 12C, and in the evening to cool to + 6C. As of December accounted for about 12 rainy days.
Weather at ski resorts in the Sierra da Estrela weather conditions allow to prepare for the start of the season: the snow, the average temperatures (+ 5-13C).
In Lisbon, the temperature are pleasant formany tourists, because in the afternoon the air warms up to + 14C, and at night the whole is cooled to + 8C. Rains are less intensity, and the sun pleases its warmth between them.
Madeira and the Azores in January consideredfavorable time. During the day the air warms up to + 19C, but the night cools down to + 14-15C. Occasionally there is overcast, but the sun still happy even in the first month of winter.
Holidays and festivals in Portugal in December
On the first day in Lisbon parades are held on the occasion of Independence Day. December 8, the Portuguese celebrate the Day of the Immaculate Conception of the Virgin Mary
In early December, in Lisbon held a traditional marathon. In addition, the city poured ice rink, an area of ​​200 square meters.
The Christmas market is held Obidos Vila Natal, where tourists can enjoy the attractions, relax in the cozy cafes and go shopping.
December 25, in Portugal celebrate Christmas. This holiday is accepted to meet with the family. All government offices, many restaurants and shops are closed on December 25.
December 31 - Noite Magica, the previousNew Year offensive. All people enjoy the festivities and attending concerts. At midnight on Madeira over the bay of Funchal taken to arrange fireworks that are brought in the Guinness Book of Records.
Prices for holidays in Portugal
When planning a vacation in Portugal in December, should beto know the price of tour packages. At the beginning of the month, you can enjoy reasonable rates, which correspond to the level of November. On the 15-17 of gradual increase. As a result, for the New Year tours rise in price by 35-50%.
Photos vacation in Portugal