Bucharest Airport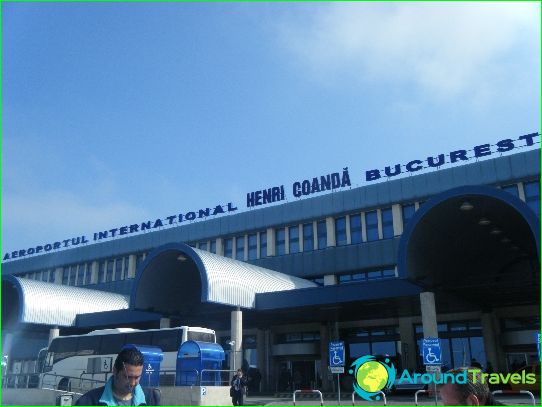 The capital of Romania, Bucharest has 2 airports- Airport Henri Coanda and Aurel Vlaicu Airport. The larger of them - is the airport Henri Coanda, is a description of the airport begins the article.
Airport Henri Coanda
This airport is located about 17 km fromRomanian capital, it is the largest in the country. This is the name given to the airport after the famous pioneer of the country's aviation Henri Coanda, which was marked in the history of the construction of the aircraft Coandă-1910. Until 2004, the airport was named - Bucharest Otopeni Airport as it is located in a suburb of Otopeni.
Every year served more than 5 million passengers. The airport has one terminal and two large runways.
Till 1965 Henri Coanda Airport is the largest military base in the country, since 1968 here began to take place civilian flights.
Terminal
As has been written above, the airport has oneterminal. It is divided into 3 parts, the first and the second part is responsible for the arrival and departure area of ​​international flights, respectively, and the third part combines the arrivals and departure area for domestic flights in the same room.
Airport is ready to offer its passengers all the necessary services - cafes and restaurants, post office, ATM, room superior, internet, luggage storage, etc.
Transport
From the airport to the city buses depart companyRATB. By bus №780 you can reach the railway station Gara de Nord, and the bus №783 will take passengers to the city center. The interval between 15 minutes to the path it takes approximately 40 minutes. Ticket price - 1.5 euros.
For 2 euros to the train station Gara de Nord train ride. The nearest station is about a kilometer from the airport. Before her buses depart regularly.
Also, the city can be reached by taxi, the fare is approximately 10 euros.
Airport Aurel Vlaicu
Aurel Vlaicu - it is the second airport in Bucharest, which is located approximately 9 km from the city. Until 1968, he was the only civilian airport in Bucharest.
Airport Aurel Vlaicu mainly used low-cost airlines. Every year served more than 2 million passengers.
Services and Transportation
Airport is ready to offer its passengers all the standard services - shops, cafes and restaurants, luggage storage, ATM, etc.
With the city's airport is connected by bus of the same company RATB. routes №131 regularly sent, 335 and 783. Also, the city can be reached by tram or taxi №5.
Photos Bucharest airport