Beaches Romania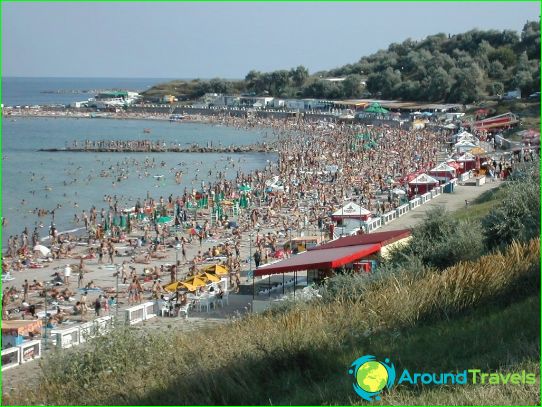 Romania - a country that can not help but fall in love withthemselves. Due to its excellent location, it has a pleasant climate, stunning nature and inviting beaches. And if Bucharest (the capital of the country) attracts urbanists, museum lovers, connoisseurs of history and interesting architecture, the resorts attract all the others. The sun, magnificent beaches and excellent facilities for the whole family make Romania a popular tourist destination.
On the Black Sea coast spread bestRomania's sandy beaches. Their peculiarity is that they are large, wide, with a comfortable and gentle entry into the sea, consisting exclusively of golden sand.
Beaches in Romania stretched nearly 245 km. Climate reigns dry, the water in the sea warms up to 25-26 degrees in all, you do not need to pay an entrance fee at any beach. But, as elsewhere, if you need a beach chair with an umbrella - will have to pay.
"Eforie Nord", "Mamaia", "Eforie Court," "Jupiter""Mangalia", "Neptun" and "Venus" - these are the main resorts of Romania, which met with great hospitality of tourists in the beach season (May to October).
The most popular beaches in Romania
Mamaia Beach. Several of them, all of them are concentrated near the town of Constanta. Then from May to October, you can swim in the clear sea, sunbathe and enjoy nature. On the beach has everything you need for a family holiday.
The beaches of Mangalia. Since Mangalia is located to the south of all the resorts in Romania, the climate for relaxing - perfect. Beaches are very large and clean, the sand they are very small. Everything is there for a good tourist destination. One of the most visited places in Romania.
Jupiter Beach. Along the Black Sea coast stretches a small bay, but equipped with all necessary beach.
Venus Beach. Location of the beach (39 km from the city of Constanta) and stunning, verdant surroundings make this place so popular and favorite for both locals and all visitors.
Almost all the beaches, located in Romania,have a "Blue EU flag." Their purity and dimensions will delight any visitor. Widest beaches reach 250 meters, and the rest - the width from 50 to 200 meters. Since the sea is quite calm in Romania, there are rarely tides, the beach, you can safely go with the kids, the whole family will be there comfortably.
Romania Photos beaches