Kitchen Romania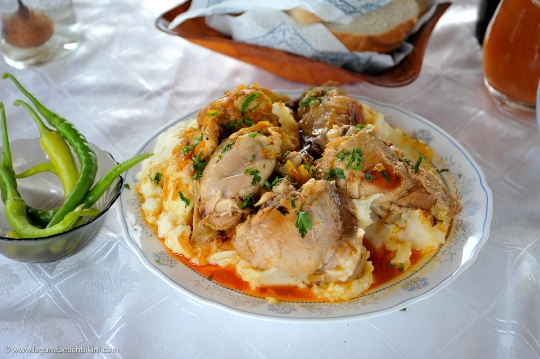 Romania Kitchen - is distinctive and varied cuisine, as developed under the influence of culinary traditions Ugric and Slavic peoples.
National cuisine of Romania
In Romania, often cooked hominy - coolcooked maize porridge, which is fried, supplemented by various additives, made from her snacks and puddings. Pride Romanian cuisine - sour soup ciorba which are meat, vegetables with egg, sour cream and flour sauce, and acidified brine, kvas or kefir. An important role in the country given to vegetable dishes - cabbage rolls, wrapped in vine leaves or cabbage (sarmale); mashed beans; tomatoes, starting cheese, rice and meat. The meat used in the country in all forms, so it's worth a try skewers of liver (frigeruy), ragout of giblets (tokitura), meatballs, roasted on coals with mustard (mititey).
Popular Romanian cuisine:
"Yes Ciorbea vakutsa tsaranyaska" (chorba with vegetables, which is preparing to beef broth);
"Chulama" (a dish of vegetables, mushrooms, meat and flour sauce);
"Tokai" (meat stew with onions, as a supplement to which acts tomato sauce);
"Stufat" (roast meat with onion filling);
"Bryuy" (cheese pie).
Where to try the national cuisine?
The Romanian restaurant menu is not problematicfind traditional dishes, characterized by its colorful and calorie. As for entertainment, many of them delight their guests with live music in the evening and at night.
In Bucharest, look at the "Count Dracula"(Specialty restaurant - Romanian cuisine with an emphasis on meat with blood; it is decorated in the Bran castle style and has 3 rooms - hunting, medieval or Transylvanian), Brasov - in "Batoiul Sasului" (gastronomic restaurant consists of a bar and 2 cafés, and offers a taste Romanian dishes, interesting salads and snacks, as well as vintage wines), in Constanta - in "La Fattoria" (taste the national cuisine can be in this restaurant, famous for its vegetable side dishes, seafood dishes, Romanian wines).
Cooking classes in Romania
Prepare meals Romanian offer to all comersin a group of participants in the cooking courses in "Societe Gourmet Cooking Classes" in Bucharest. It is worth noting that work in Romania "Mobile Cooking": concerned by the news offer travel the country in order to study local specialties (they are waiting for master classes, which will be prepared Romanian specialties).
Visiting Romania can podgadat to the Festival of dry sausages Plesca (October, village Burke) and the International Gastronomic Festival (June, county Kovsna).
Photo