Resorts of Romania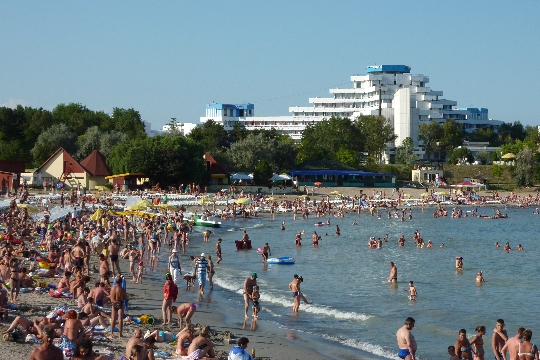 About Romania travel fans usually do not knowso much. The main tourist and mystical brand of this trend - Count Dracula, but because the excursions through the ancient castles and architectural attractions make up the majority of search queries in the country. But apart from the vampire she can offer guests a nice and fun, and the Romanian resorts and is not inferior to other European, if you look at them closely.
Three tourist foundation whales
All resorts of Romania can be divided into three main categories, although some of them may well be in several capacities:
Sanatorium treatment in spa resortsIt is very popular among fans of low-cost recreation, proven health programs and decent service. Mineral springs in the Romanian resorts - a real fount of health. In spas Covasna and Sovata, Baile-Tusnad-Baile and Olaneshti cure dozens of diseases and patients return not only the body vigor, but also beauty and optimism.
Romanian resorts on the Black Sea coast -a worthy alternative to the beaches of Bulgaria, Turkey and Greece. It's not as crowded as in the untwisted European resorts, but because the sea is cleaner, lower prices, and the service pleasant and better. you can not just sunbathing on the beaches of Jupiter, Neptun-Olimp, Constanta and Saturn, but also to undergo cosmetic and medical procedures in balneological hospitals. This successful combination of business with pleasure - another plus in the treasury of the Romanian resorts.
Ski slopes in the realm of vampires - goodreason to visit Romania during the winter holidays. Infrastructure and technical equipment allow to ride the slopes and relax quite well, and the cost of hotel rooms, rental equipment or coach services will not cause such a meaningful damage to the family budget, as the fashionable resorts of the Old World.
Always in the TOP
A replica of Bran Castle, where, according to legend, andlived Count Dracula, appeared in the ski resort of Poiana Brasov. This modern hotel is designed for athletes who prefer cozy and well-groomed slopes of the Carpathians a little pretentious and not cheap alpine routes.
Technical equipment of a modern resortRomania does not yield the neighbors, among the ten tracks of different denominations will find a slope on the soul and novices and pros, and snow cannons provide reliable coverage even in the event of a capricious weather.
Photo