Traditions of Romania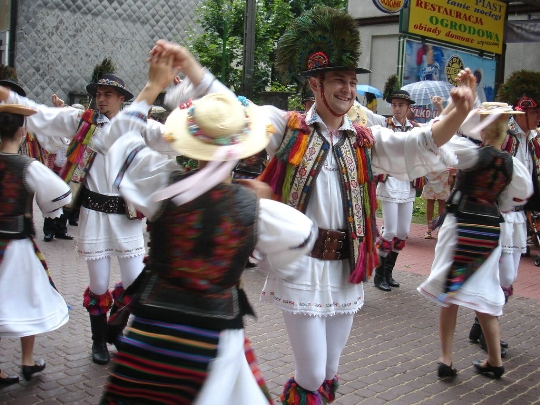 Traditional culture of the Romanian peopleIt evolved over the centuries. Local residents composed terrible legends of Vampire Counts, bloodthirsty dragons and horrible dungeons, where prisoners are languishing exhausted. When referring to Romania, in memory float movies where in the old castle live the ghosts and the main weapon of the heroes are silver bullets. In fact, the tradition of Romania - is the hospitality and love of neighbor, and the life of its people especially imbued with positive and sunny colors.
Red corner
Romanian homes have always variedinterior, which was dominated by bright colors. Embroidered tablecloth and homespun rugs, towels and colorful painted pottery - being in a hut, the traveler begins to feel like the old fairy tale. Red corner of every house in Romania traditions - it's just a wall facing east. It is given over to an image and icons, and all other occupied embroideries and decorative ceramics.
In the old days every girl from childhoodI am preparing themselves dowries. For these purposes, the houses were carved chests covered with homespun rugs. This tradition in Romania preserved to the present day, but only in rural areas, whose residents are mostly national and clothing.
Please to the table!
Traditional cuisine of the Romanian people is very satisfying andthorough. All meals are prepared over an open fire or in an oven, and even vegetables are often baked or fried. Meat - the basis of the Romanian cuisine in the tradition. Fish found on the tables of local people much less, but the dairy products can be seen at breakfast and dinner. Especially tasty guests of the country seem to be homemade cheese and stuffed leaves sauerkraut.
The head of the family and the meal starts to give directiontable-talk. Youth in Romania honors the elders, but because they are usually toast the parents or grandparents. Wine on the table Romanians appears regardless of meal time, because it is considered the national drink in the country.
Useful things
When deciding what to bring souvenirs from Romania tohome, pay attention to the national embroidery. Napkins and blouses, towels and even a picture made cross with gold or silver thread, - true works of art of Transylvania. Not less popular with tourists are black ceramics and carved stone statues.
After receiving an invitation to the Romanian wedding,certainly agree. Colorful and bright wedding ceremony and celebration in a few days will be the most vivid impression of the trip to Romania.
Photo