Abakan Airport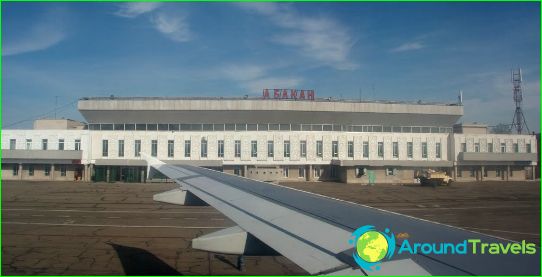 The international airport is located in Abakana few kilometers north of the city. The airline has two artificial runways, length of 3.2 km and 1.8 km. The main carriers are Air Harbor Airlines such as "Aeroflot", KrassAvia, Icarus, Taimyr, S7 Airlines and other well-known Russian air carriers. Every day from here sent more than a dozen flights to different parts of Russia and abroad.
History
As an independent airline SE "Airport Abakan" was founded in March 1993, after a major renovation, existing at the time Abakan airlines.
It was strengthened and equipped with new equipmentoperating runway, and laid a new runway. Modernized passenger terminal, built new hangars and buildings of economic purpose, intended for maintenance and parking of aircraft.
In 1996, the airline received an international status. And for two consecutive years in 1999 and 2000, the airport has been awarded the title of the best airport in the nomination "the best airport of the CIS countries."
Tools and Services
The compact passenger terminal of the airport in Abakan provides all conditions for comfortable passenger service. On its territory there are:
Agency for the sale of air and rail / train tickets, which, in addition to ticket sales, offering them advance booking, free delivery to your office or home and the possibility of cashless payment
storage room, located on the first floor of the terminal, operates around the clock and offers a range of services for the storage and packaging of luggage
Superior room for passengers traveling business class
mother and child room for traveling with children up to seven years
medical center, where there are the necessary first-aid medicines and medical equipment
In addition, the airport has the means toserving passengers with disabilities. It provided not only carriages and ramps for mobile transport of disabled people, but also a special support.
Transport
From the airport to the train station regularlyBuses on route number 32, trolley buses number 5 and 4. In the central streets of the city will ride trolley bus №3, the terminus of which "Bus". The services also provide the service of urban taxis.
Photos of Abakan Airport