Arkhangelsk Airport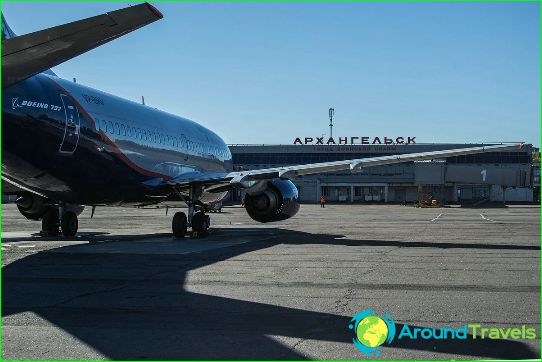 International Airport "Talagi" Arkhangelsk is located 6 kilometers from the city, in the north-western part.
The length of the runway strip airportis 2.5 km and a width of 44 meters. This allows the airline to take wide-body aircraft such as the Boeing 737 and its various modifications. The capacity of the airport - more than 700 thousand passengers a year, not counting freight and mail transportation.
The airline has successfully cooperated with famous Russian air carriers like UTair, Russia, Nordavia and foreign - Air Europa, Astra Airlines.
History
Arkhangelsk Airport was established in 1942as a military airfield under the leadership of the Soviet Union, twice hero of Rear Admiral Ivan Papanin. The runway of the aerodrome at the time was a wooden lattice, filled with gravel.
It was only in the early 60-ies of the last centuryAirport has been used for civilian traffic. His first passenger aircraft began to Antonov An-24, Yak-40, IL-18 and other types of small vessels.
From 1998 to currently deployed at the airport of the air defense of the Russian Federation.
Currently, the airline holdslarge-scale reconstruction. This is the first airport north of European Russia, started to use the telescopic ladders. By 2015 it is planned to complete the reconstruction of the runway and the construction of a new terminal between the two existing buildings.
In memory of the 518th Berlin Fighter Regiment based at the airport here acting on a perpetual parking MiG-31.
Tools and Services
presented at the airport territory standardrange of services: mother and child room, luggage storage, post office, ATM, payment terminals. A café and a restaurant. For relaxation, offering cozy lounges, there is a hotel. On the territory provides free car parking.
Transport
From airport parking in the city is constantly plybuses: route №12 «Airport - sea and river stations" and the route №153 «Airport - Severodvinsk". Regularly, every 10 - 15 minutes walk taxis with a capacity of 16 seats. On the road it will take approximately 40 - 45 minutes. Getting Traffic - 06.00 am, the end - 23.00 hours. In addition, the city can be reached by taxi.
Pictures of Arkhangelsk Airport