Chita Airport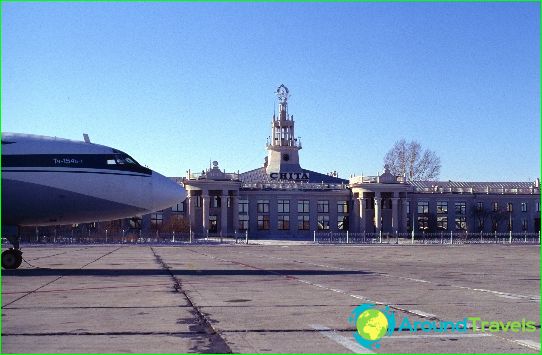 Kadan - International Airport in Chitalocated in 18 km from the center of the capital of Buryatia, in 8 km from the federal highway Moscow - Vladivostok, and only 500 meters from a Trans-Siberian Railway. The airport has a concrete runway length of 2.8 km. This allows the airline to take to the service as a small aircraft (AN-124 - 100), and wide-body Boeing.
Passenger airline is more than 300 thousand people a year, not counting freight and mail traffic, which only in 2013 amounted to more than 2.5 million tons.
In 2013, the airport in Chita entered the top five airports in Russia and dynamics of development of Europe in the subgroup of "small airports".
History
The first flight from combiIrkutsk - Chita -Mogocha took place in 1930. Only the first two years with the possibility of airport refueling and technical inspection of the aircraft was built later in Chita.
And two years later, in 1934, he has been committedfirst long-distance flight Moscow - Vladivostok with a stopover in Chita airport. Only Chita Aviation Enterprise was established in 1936 on the basis of the airport.
Gradually expanding, to the early 80-ies of the 20th century, the airline operates direct flights to Chita - Novosibirsk - Moscow, Chita - Omsk - Moscow.
In 1981 he was made the first non-stop flight on the route Moscow - Chita on the Yak-40 while it was some kind of record flight range.
By the mid-90s the airport enters into operationa new runway, the relevant ICAO standards and receives international airport status. Bangkok - The 2012 International Chita route was opened.
Today, the airport Kadan is successfully cooperating with foreign airlines Air China, Hainan Airlines, Russian - Aeroflot, Ural Airlines, NordStar Airlines and others.
Tools and Services
Chita terminal features comfortable roomsexpectations (for Vip-passengers are provided superior rooms). It offers free WI-FI, open branch "TransCreditBank" banks and "Sberbank", operate ATMs and payment terminals, located on the ground floor storage room, medical center, police station. There is a cafe, a restaurant, a small hotel at the airport.
Transport
From the airport, the city established the movement of minibuses on routes №12 and №14. You can also take a taxi.
Photos of Chita airport