Airport Kyzyl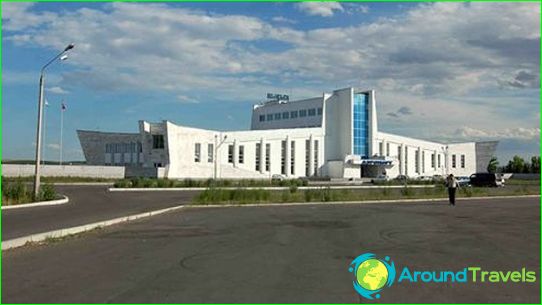 Kyzyl Airport is a small regionalRussian airport. It is located about 5 kilometers from the city center. In 2013 here was organized by regular flights to Krasnoyarsk, Novosibirsk, and in some regions of the Republic of Tyva.
Kyzyl Airport is one of the internal nodesRussia, and therefore can not be closed. Despite the fact that the airport is served by a total of 13 million passengers per year, the government actively supports it.
Last renovation was carried out in the airport2006 - was carried out repairs of buildings and runways. The airfield has two runways, the length of which is 2700 and 1200 meters. By 2016, the airport in Kyzyl can become international.
services
As mentioned above, the airport isan important transport hub for Russia. Therefore, the airport in Kyzyl tries to ensure the most comfortable conditions for passengers on their territory. cafés inside the terminal who are willing to feed all the hungry visitors.
Of course, the airport has several shops where guests can buy various goods - souvenirs, food, drinks, etc.
On the territory of the terminal offers luggage storage, as well as luggage packaging service available.
In addition, the airport is ready to offer a comfortable waiting room for economy class passengers, and for VIP passengers have a separate lounge, with a high level of comfort.
There are ATMs on the territory of the terminal, post office, Internet cafes, etc.
Getting there
Before the flight a lot of time,You can relax in one of the hotels, which are located in the city. Prior to Kyzyl from the airport about 5 kilometers. From the terminal building there is a regular bus service.
Of course, as elsewhere, there is available a taxi. By taxi, you can reach any point in the city, respectively, to pay for such a service would have a little more than a bus.
Pictures of Kyzyl airport