Norilsk Airport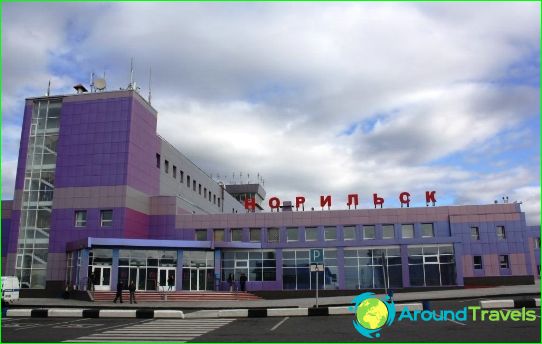 Norilsk Airport is located at the intersection ofTrans-Siberian and Trans-Atlantic routes, 50 kilometers west of the same city. The length of its runway is 3.4 km, which allows the airline to accept all types of aircraft and helicopters. The airline cooperates mainly with Russian airlines "Taimyr", "Nordavia", "Transaero", "Ural Airlines" and serves more than 400 thousand passengers a year.
Tools and Services
Airport terminal offers passengers fullrange of services and comfortable conditions during the voyage expectations. There are several lounges, a room mother and child, a left-luggage service, with packing luggage, convenient display with all the necessary information about arriving and outgoing planes.
They operate a bank, post office, medical center, cafe, restaurant. Orthodox church is open to the faithful.
The reception and luggage control locatedon the first floor of the passenger terminal. Paragraphs pre-control - on the second floor of the terminal. To the boarding gate, passengers pass through the boarding bridge, or they are given a special bus that delivers the aircraft.
Passengers with disabilities are invited to a separate set of services:
Extraordinary registration and landing on board the aircraft
support of health workers and the provision of specialized car
specially equipped bathrooms
rack to move in a wheelchair or on a stretcher transport
Business class passengers are provided superior room where you can use the office equipment, the ability to view TV channels, free Wi Fi, room for negotiation.
For the rest, or waiting for the flight (it is worth noting that due to the unfavorable weather conditions, the airport is often closed to flights), there is a comfortable hotel at the airport.
Transport
From the airport to the city there is a regular movement of buses and minibuses "Gazelle". The services offer the service of urban taxis.
Pictures of Norilsk Airport