Ryazan Airport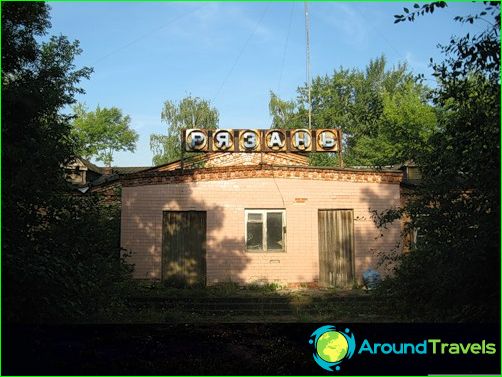 Turlatovo Airport - abandoned airport in Ryazan, located at 15 kilometers in the direction of the south-eastern part of the city, in the neighborhood of the same name with him and sat down near the route Moscow - Chelyabinsk
The structure of the airline included:
plot of land with an area of ​​almost 70 hectares
runway covered with asphalt, and the length of 1.2 km
buildings for special purposes - fuel storage, hangars, warehouses, repair shops, airport terminal, administrative offices, a dormitory and utility rooms)
The activity of the airport began in 1959,when flying squadron was created, serving regular freight, postal and passenger air transportation. Before the start of the 90s the airport was the main airline of the Ryazan region. Daily flights from here went to Gorky, Sverdlovsk, Adler, Kharkov and other cities of the former Soviet Union.
The small airport building at its disposala minimum of services for receiving and sending flights. Comfortable waiting room for a few dozen seats, a mother and child room, luggage storage. A kiosk printing union, post, telephone, telegraph.
However, in the early '90s, when he ceasedthe existence of the Soviet Union, because of the high cost of airfares, dramatically reduced the number of passengers wanting to travel by air.
The constant rise in the cost of fuel for aircraftIt made it impossible for the public use of such expensive services like flight on small aircraft. The share price of aviation fuel in relation to the cost of the ticket was (and is today) more than 40%, whereas according to the laws of the economy, it should exceed 20%. Therefore, the airport in Ryazan, as well as many Russian airports, reduced to a minimum regular passenger and cargo flights. fallen on hard times for the Ryazan Airport.
By the end of 1990 the airline ceased itsactivity. The main part of the aircraft was sold, part of the dismantled for spare parts, the remains of decommissioned and handed over to the scrap. In 2001, like many Russian airports, the airport in Ryazan was removed from the Register of Russian airports.
Currently, the airport isowned OAO "Ryazan Airlines" and is mainly used for sports training flights flying clubs, and also as a landing area of ​​small aircraft.
Photos Ryazan Airport