Tobolsk Airport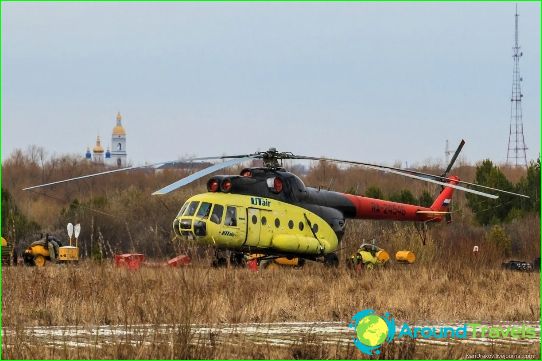 Tobolsk Airport caters to airPosts only local airlines. And it is currently being used as a platform for take-off and landing of helicopters. Unfortunately, the condition of the landing strip of the airline is that to take and maintain aircraft runway even small aircraft is not able to.
At one time the runway850 meters long airline took the aircraft type Yak-40, L-410, An-32 and An-24. From Tobolsk daily sent planes to remote areas of the region and neighboring Omsk, Novosibirsk, Sverdlovsk region. However, in a crisis 90 the number of flights has decreased dramatically, and then completely stopped all flights from Tobolsk. Currently, WFP has declined. From the remnants of its metal part built taxiway 80 meters long.
Development prospects
In connection with the development of the oil and gas industry andtourism in the region, the construction of the airport in Tobolsk is becoming increasingly important. In October 2013, Russian President VV Putin, who visited Tobolsk, instructed "the Ministry of Transport" as soon as possible to assess the possibility of building a new airport in the city, spearheaded with the attention to the relevance of the question.
Currently, the administration of Tobolskconsidered a number of investment programs, examines the future potential of passenger traffic of the airline analyzes the economy of the project of building a new airport.
According to preliminary data on the implementation ofthe project will require more than a million rubles. From official sources it became known that the general contractor to perform work determined by construction company SIBUR.
It is planned that the new airport will be able to simultaneously accommodate more than 200 thousand people.
Tools and Services
Currently, the airline offersminimum range of maintenance services of helicopters to deliver loads of special purpose on the oil fields in the region and implement the delivery of oil to jobs in remote and hard-to-point region.
Transport
From the airport to the railway station Tobolskestablished public bus traffic, a route which passes through the central streets of the city. You can also use the services of taxis "Gazelle", designed for 16 seats.
Photo Tobolsk Airport