Airport in Khanty-Mansiysk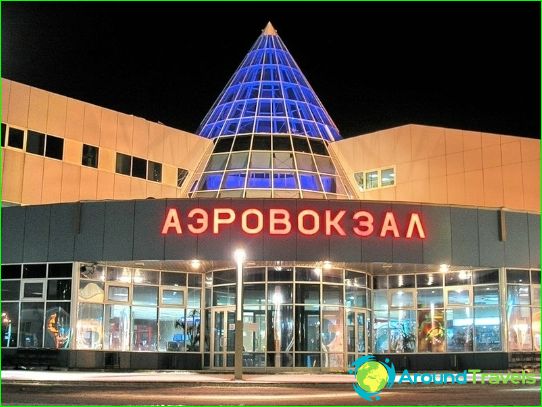 Airport Khanty-Mansiysk is the mostlargest airport in the region, serving international and domestic flights. The airline has a runway length of 2.8 kilometers from the hard shoulder - 60 meters, which allows the airline to accept all types of aircraft, take-off weight up to 80 tons.
Besides equipping the airport systemsinstrument landing SP-90 and drives OSB, as well as in radio range navigation and surveillance radar, allows the airline to take aircraft under adverse climatic conditions.
History
Home airline in Khanty-Mansiyskfrom the end of 1934, when the polar pilot N. Tselibeev flew on aviamashine AIR-6 with a stopover in Ostyako-Vogulsky (formerly known as the Khanty-Mansiysk), associated with the preparatory work for the trails along the Siberian rivers Ob and Irtysh. At that time, the settlement already had a small airfield owned airport Samarovsky State Northern Sea Route.
A month after the trip N. Tselibeeva of Ostyako-Vogulsk was made the first passenger flight from Tyumen Obdorsk landing in Samarovo. By the end of 1935 was established air links Tyumen Ostyako-Vogulsk.
Its current name the airport in Khanty-Mansiysk, received in 1956, and in 1973 was built a new building of the passenger terminal in the place where the airport is located, and in our days.
With the development of oil and gas complex in the country,expanding the scope of activities of the Khanty-Mansiysk airlines and the geography of its flights. Today, it is equipped with the latest technology the airline meets all international standards and provides a full range of ground-based and commercial aircraft maintenance.
Tools and Services
Airport Khanty-Mansiysk hasa standard set of services to create a comfortable and safe passenger service. On its territory there are lounges in the areas of arrival and departure of passengers, a mother and child room, medical center. Luggage storage service with packing luggage, food items, e-mail. Provided the voice and visual information on the movement of the aircraft. For of VIP-passengers is equipped with a meeting room with the necessary office equipment, with free internet access. On the forecourt provides parking of personal vehicles.
Transport
The airport is located almost in the city, so there are established urban vehicular traffic. In addition, our services offer the service of urban taxis.
Photos Airport Khanty-Mansiysk