Airport Novokuznetsk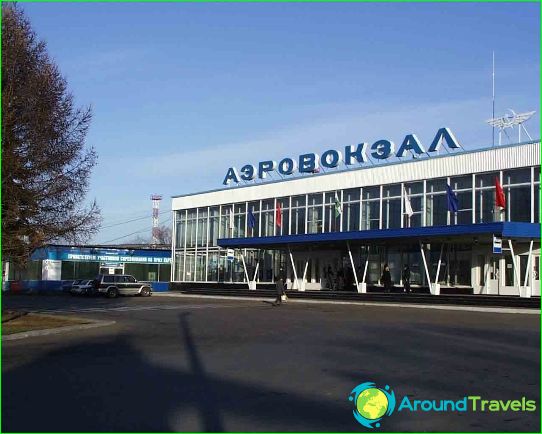 Airport Novokuznetsk, known asNovokuznetsk - Spichenkovo, located between the two Siberian cities - Novokuznetsk and Prokopyevsk, near Spichenkovo ​​village, from which it got its present name. Its runway, stretching nearly three kilometers, allows you to receive both small and wide-body Boeing. Passenger airline is 200 - 250 people per hour.
Since 2012, the airport has an international status. It operates international flights to more than 10, and directions. List of regular charter flights are constantly updated.
History
Date airport grounds in NovokuznetskIt falls on August 1952. By merging disparate small airline, based Abagur airfield, the control department of the West Siberian GVF (Civil Air Fleet) was created by a single 184th squadron, serving mainly passenger and cargo air transportation in Tomsk, Novosibirsk, Kemerovo and other Siberian cities.
Gradually expanding, by 1998the airline was to make long-distance flights to Moscow, St. Petersburg and regular charter flights to tourist country. In April 2012, the airport received international status
Tools and Services
Spichenkovo ​​Airport has all the conditions forcomfortable service for passengers of first and business class. To their services the mother and child room, comfortable lounges, dining room, bar and restaurant "Airport" with a banquet hall, a small hotel with suites. Luggage storage, post office, ATM.
Immediately guarded parking is organized in front of the terminal building.
The airport operates a tour desk where you can get a small helicopter tour of the MI-8 to surrounding area Prokopyevsk and Novokuznetsk.
passage
From the airport to the nearest towns - Prokopyevskor Novokuznetsk can be reached by public transport. Train station Novokuznetsk Airport connects the bus number 160. Before Prokopyevsk Regular buses №10 and №20. At the same routes every 15 - 20 minutes walk minibuses. To date, the cost of travel in public transport is 18 - 20 rubles.
The distance from Novokuznetsk airport to the center of a little more than 25 km, so the journey takes less than half an hour.
The nearest cities -. Kemerovo, Mezhdurechensk, Prokopyevsk, Belovo, etc. can be reached using the taxi, order is made possible even in the air, directly from the aircraft.
Photos of Novokuznetsk Airport