Airport Salekhard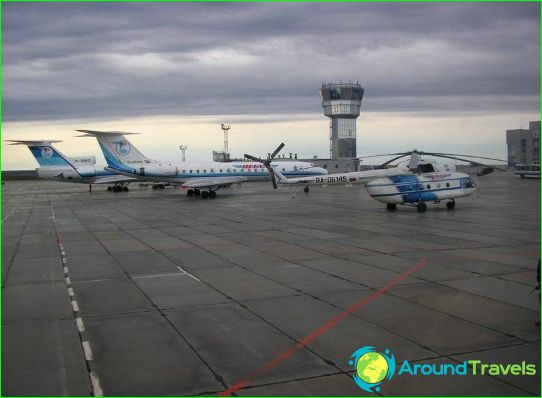 Civil Airport is located in Salekhardtowards the northern part of the same city, seven kilometers from the center. The airline serves airplanes of small and middle-class flying commercial purpose. The structure of the airport are:
runway length of just over 2.7 kilometers of asphalt
modern terminal building
farm buildings and hangars, designed for refueling and maintenance services
Passenger air harbor is more than 400 thousand passengers a year.
Salekhard Airport has successfully cooperated withSix Russian airlines, including "Aeroflot", "Ural Airlines", "Yamal", "UTair", all of them successfully communicate Salekhard with major Russian cities, as well as charter flights to popular tourist country.
Technical capabilities
Salekhard Airport has the status of "B" class andIt equipped with all necessary equipment to ensure reliable and safe flight service. On the technological capabilities of the airline is able to take aircraft of medium and small types of AN-24 and IL-76 and Boeing-737.
In addition, the airport "Salekhard" is used as an emergency airfield in the event of unforeseen circumstances, to aircraft for commercial use.
The main airline operator - JSC"Airport Salekhard", thoroughly and with great responsibility comes to recruiting. There are only highly qualified professionals, which gives a guarantee of safety and passenger services at a high level.
Tools and Services
Salekhard Airport has a fullrange of services, providing a comfortable service for passengers. The modern terminal building there are cozy lounges, a room mother and child, a medical center, luggage storage. Cafe, post office, bank branch, there is wireless Internet.
For relaxation, it has a small hotel. On the forecourt is equipped with parking for personal vehicles.
Transport
From the airport to the city on a regular basis, at intervals15 - 20 minutes, and shuttle buses on routes №1 and №5. Run time from 06.00 to 22.00 hours. By the same route and with the same frequency, run minibuses designed for 16 seats. In addition, the services offered to passengers urban taxi.
Photos Salekhard Airport