Airport in Nakhodka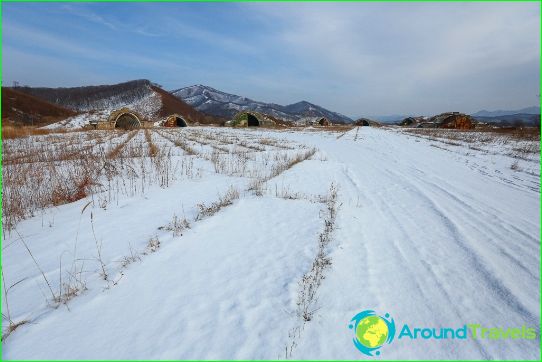 Airport Nakhodka "Golden Valley" (formerlyunash name) - a former military airfield, located 20 kilometers from the city towards its northern part. Since the early 90-ies of the last century to 2006 the airport was operated in conjunction with the civil aviation and was a project plan of the FEZ "Nakhodka Airport."
In the late 90s, in connection with the liquidation of Air Force units, the airport was disbanded. Artificial runway length of 2.5 km today comes into disrepair.
History
Creation of the airport dates back to 1991 in Nakhodkathe year when there was a need to maintain emergency supplies passing through the Far Eastern port, as well as the need to transport passengers in remote and hard-to-point region.
Originally it was planned construction of a newairport near the village of "Nikolaevka", located a 40-kilometers from Nakhodka. Financial construction costs were estimated at $ 100 million. However, later on the project for unknown reasons abandoned.
In September 94th military airfield "GoldenValley "has received the status of joint basing airfield. Financing the construction of passenger and cargo terminals were assigned to regional and district budgets. Even it has been allocated a loan of US $ 9.5 million and made part of the work on the runway repair, painting aviamashin parking places, ground and other work. In March, 97-Airport took first civilian cargo aircraft AN-12.
However, in May '98 Aviation Regimentco-location has been disbanded, and a beginner airport was left without support. And, despite the fact that the airport was recognized as fit for receiving and sending of aircraft, due to lack of funding, reconstruction and technical re-equipment of the airport have not been brought to fruition.
Construction of the airport in Nakhodka included in the free economic zone development plan until its liquidation in early 2006.
Our days
Today, the airport area comes inneglected and overgrown with grass runway, hangars destroyed. There are still some parts of the Russian air defense units and residential complex military camp.
In the village Nikolaevka, at the turn of the road to the former airfield, is a monument "fighter-interceptor Su-15."
Photo Finds Airport