Ulyanovsk Airport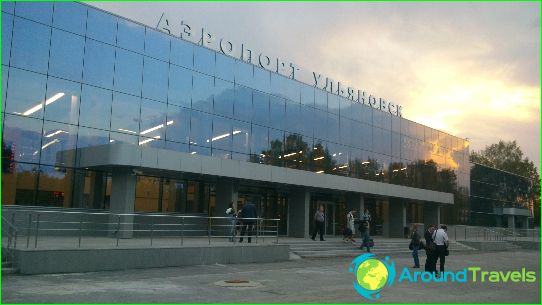 Airport Ulyanovsk named after Karamzin (orBaratayevka airport) located in the vicinity of the village Baratayevka 9 kilometers from the city center in the south-western part. The airline has at its disposal three runways:
tsementobetonnaya artificial runway, reinforced armored plated in 30 cm thick, length of 3.8 km
gruntovaya runway (GVPP) length of 2.5 km, provided in the event of an emergency landing
gruntovaya runway length of 800 m, for receiving small aircraft AN-2 vessels, L-410, AN-28 and helicopters of any type
Also Baratayevka airport in Ulyanovsk availableAnother international airport - "Ulyanovsk-Vostochny", created on the basis of aviation and industrial complex of the enterprise "Aviastar". Its runway length of 5 km is one of the largest in the world. This air harbor Ulyanovsk is also used for freight, passenger and charter flights.
History
The first flight of the Market Square of the cityUlyanovsk (Simbirsk in those days) has demonstrated its capacity in 1913. A first demonstration flight of Simbirsk in Tsaritsyno was made in 1924, when there were the first passengers who want to ride a aviamashinah over the city.
By the mid 20-ies in Ulyanovsk it was equippedairfield serving neighbors flights. And only by the end of the 50s it was built a new airport building and opened the first air service from Kuibyshev - Ulyanovsk - Moscow.
Today, airline capacity is 200 passengers per hour.
Tools and Services
Both airports have only in Ulyanovskmost necessary range of services. There are cafes, Rospechat kiosks, waiting rooms, infirmary, storage. For Vip-passengers are provided superior rooms. On the territory of the airport there are several hotels.
Transport
From the airport Baratayevka established movementbuses on the routes number 12, 66, 123 and others. Route №330 Airport East is organized specifically for departing passengers to Antalya, so schedule its movement is tied to the arrival time and flight dispatch Ulyanovsk - Antalya.
Photos of Ulyanovsk airport