Vorkuta Airport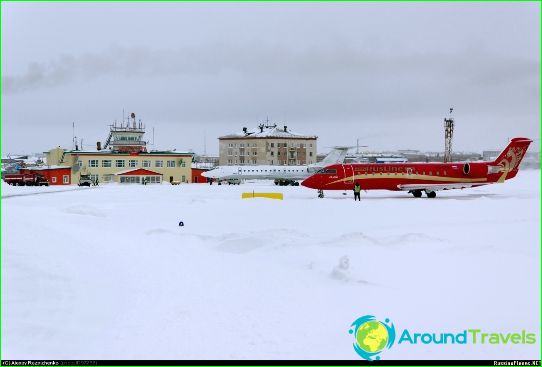 Vorkuta Airport - the main airport of the RepublicKomi, located in the south-west of the same city. town Air Station receives regional flights different areas, helicopters of all types, as well as aviation services of large enterprises of oil and gas complex. Partner companies of Vorkuta airport are "Komiaviatrans" and "Rusline", "Severstal" and "Gazpromavia", the company "UTair". This aerouzla regular flights to Moscow airports Domodedovo and Vnukovo, in the city of Cherepovets and Syktyvkar. Airport Vorkuta distinguished by the fact that its territory is based aviation of the Russian FSB. Prior to "air gates" of the city of Vorkuta can be easily reached from the train station or the city center by bus under the 10 number.
Despite the fact that the airport is not in Vorkutaserves international flights, to its guests it is ready to provide a sufficient range of services covering all the needs in the way. In the airport building there are lockers where you can leave your luggage on the comparatively high price - 75 rubles per day, if the baggage is bulky - 85 rubles per day, mother and child room, where parents can feed the baby, ensure that sleep, to take advantage of a changing table and play a bit with it, in anticipation of landing on the flight. Nearby there is a first aid station and a pharmacy.
Although the airport is small and Vorkutaaerouzlom serving per day, about 150 people, it is ready to provide the superior service. Standby VIP-hall, where you can access the Internet from a desktop computer, send or receive a fax, and relax in a pleasant environment, is available for free for passengers traveling in business class, as well as all interested persons on advance payment.
The undeniable advantage for those who have arrived at the airportVorkuta on private vehicles, would be the possibility of free parking almost in front of the terminal. Nearby is also a paid parking place, which provides services of protected parking.
Photos Vorkuta Airport