The airport in Yuzhno-Sakhalinsk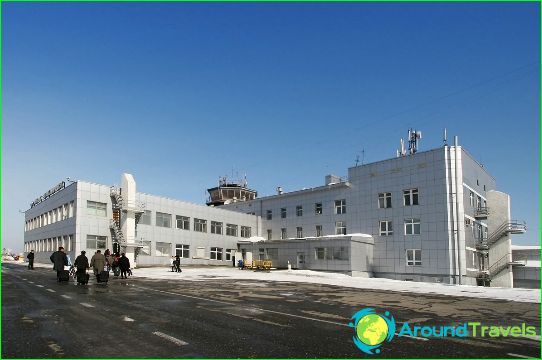 The airport in Yuzhno-Sakhalinsk - the largestAirport in the Sakhalin region, considered one of the most powerful units in the Russian airport network. The airline is located 8 kilometers from the regional center near the village of the same name of the airport Khomutovo. Runway airport has a length of 3.4 kilometers, and its capacity is more than a million people a year, not counting freight and mail traffic. The main company that uses the airport is JSC "Yuzhno-Sakhalinsk airport." The company successfully cooperates with many well-known carriers of the world, which include the Russian company "Aeroflot", "Sakhalin air routes", "Transaero", "Vladivostok Avia", and others.
History
Start the first flight in the history of the airportoccur in 1945, when after the liberation of the Kuril Islands from capture by the Japanese militarists, civil aviation in the region beginning to gain momentum rapidly. The first flights took place on a route Khabarovsk - Yuzhno-Sakhalinsk. Gradually updating aviamashin park, airport expands its route network. By the early 90-ies the airport, fully meeting the requirements of international standards, and began to passenger air travel abroad. Already by 2011, passenger traffic at Sakhalinsk was almost 800 thousand passengers a year. For comparison, the capacity of the company was less than 600 passengers in 2006.
Today, the airport serves about 50flights a day, including 16 destinations in Russia and 7 international. However, due to weather conditions often have to endure indefinitely, sometimes for several days.
services
A small area of ​​the terminal buildingSakhalin airport provides a full range of recreational facilities and mobile travel passengers. On its territory there is a small coffee shop, waiting room, a mother and child room, grocery store. Work Rospechat kiosk and luggage storage. In front of the airport car parking is provided, where the first 15 minutes of parking - free of charge.
Transport
From the airport to the different areas of the city on a regular basisrun buses on routes №8, №63 and №93. In addition, its services offering urban services taxi fare can be ordered by phone or directly at the parking lot near the terminal.
Photos of the airport of Yuzhno-Sakhalinsk