Excursions in Chelyabinsk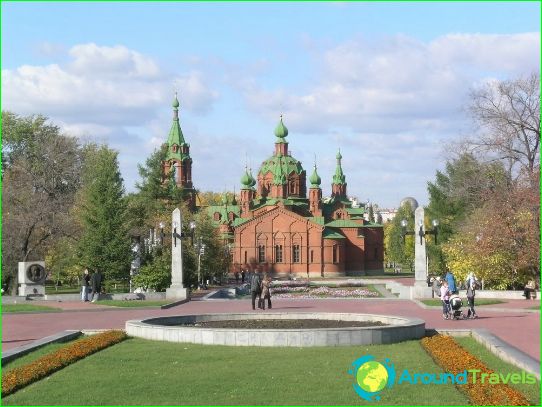 In 1736, the beginning of the city of Chelyabinsk has becomesmall a fortress near the Miass River. Today Chelyabinsk is one of the largest cities with a population of over a million people. In addition, it is a major industrial center, not only in its region but also throughout the country. In recent years, the city has become a major tourist destination, so tours in Chelyabinsk ever popular among tourists.
Modern Chelyabinsk
City planners have never sought to giveChelyabinsk look industrial and commercial center. On the other hand, the preservation of old buildings and creating new attractions - the main objective of the cultural development of the city. In recent decades, is actively creating amusement parks.
What to see?
For visitors to the city, as well as the curious localresidents who want to learn all about the history and culture of his native city, there are sightseeing tours in Chelyabinsk. While exploring the city can be seen:
Public Library;
Theatre of Opera and Ballet;
Confectionery factory "Yuzhuralkonditer";
Church of the Holy Trinity;
SUSU Corps;
National History Museum;
Theatre of Drama.
Art lovers will certainly tasteChelyabinsk Art Gallery. For tourists who like to walk around the city, a special pedestrian zone on Kirov Street. There is a cafeteria and restaurants, a lot of beautiful bronze sculptures. You can also see the zero kilometer of Chelyabinsk, where ticking away to different cities. The picturesque streets is not inferior to Moscow Arbat. And everyone look at Chelyabinsk from an unusual angle - from the bird's eye view - can go to the observation deck.
Also guided tours are also popular walks in the parks. In the city there are several lakes, among them the Smolino and Sineglazovo.
Wishes to make a purchase can go to one of the largest shopping centers of the city, such as "Focus" and "Metropolis."
themed tours
In addition to a city tour thereset of thematic areas. Those interested in the creation and development of locomotive equipment, the museum will show JUUZHD and locomotives museum. For lovers of astronomy have an excursion to the "Astronomical Centre". Believers and simply interested in religion can go for a walk to the holy places of Chelyabinsk: churches, mosques, synagogues.
The town also has several thematic museums:
Book Museum;
Museum of dolls;
Museum of Archaeology;
Museum of Geology.
Although Chelyabinsk has a thousand-year history, it is a city with an interesting history and special culture. He will be able to surprise every guest. And any tourist will find here the tour to your liking.
Photo excursions in Chelyabinsk