Viewpoints Chelyabinsk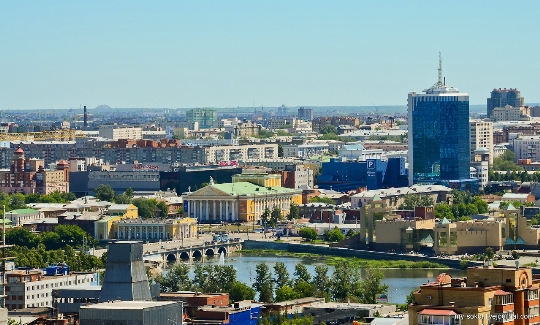 Inspection platform delivers Chelyabinskguests can see the city in an unusual perspective, spherical dome of the shopping center on the street kaslinskim, bronze sculpture on Kirov Street, Holy Trinity Church and other attractions.
"Chelyabinsk City"
This building has 23 floors (with its heightspire - 100 m; are periodically arranged an exhibition of photographs and drawings), and its last floor serves as a viewing platform (the best views in the Chelyabinsk), which manages to rise by paying a certain amount of 300 rubles / 1 person at a set group of 10 people; 500 rubles / 1 person, if the company consists of a maximum of 3 visitors.
It is worth noting that for those wishing to be organizedvarious events on the territory of the site, for example, watching fireworks, or a romantic dinner. And if you want you can visit the restaurant "Ambassador" -one is located on the 4th floor "Chelyabinsk City" (available Fourchette and banquet menu).
Address: Kirov Street, 159; link to the website: www.panorama74.com
Business Center "vipra"
Survey area travelers will find a roofbuilding, which also features a helipad. Guests are invited to make an order for a sightseeing tour includes visits to the site, as well as to organize a meeting or a romantic photo session. Address: Street Elkina, 45a.
Chelyabinsk State Museum of Local Lore
All of the museum will be able to inspect 250rubles, and the permanent exhibition (you can get acquainted with the exhibits of the hall of the 20th century, the hall of nature and ancient history, hall of history and folk life) - for 160 rubles. In addition, guests are recommended to visit the Museum on the roof (tickets cost 50-100 rubles, opens its doors to visitors from May to November) - with a viewing platform will be able to admire the modern avenues and little streets, green squares, churches and wooden houses from the early 20th century ( lovers flock here panoramic views and photo sessions). It is worth noting that for children in the museum held workshops on traditional crafts as well as guided tours and museum classes targeted to young visitors of different age categories. Important: every first Monday of the month is a sanitary day.
How to get there? Using the services of public transport, it is necessary to travel to the city's "Circus", "Opera House" or "Palace of Sports Youth" (address: Labor, 100; website: www.chelmuseum.ru)
Ferris wheel in the park named after Gagarin
Admire vistas duringriding on an adult will be able to ride this for $ 100, and children 5-8 years - for 70 rubles. In addition, guests will please kartodroma presence in the park, paintball field, rope park "Forest Adventure" and other entertainment.
How to get there? The stop of "recreation park named after Gagarin" You dovezut buses number 16, 83, 4, 2, or shuttle bus number 10, 3, 102, 99 and other (address: Commune, 143).
Photo