Independent travel to Kazan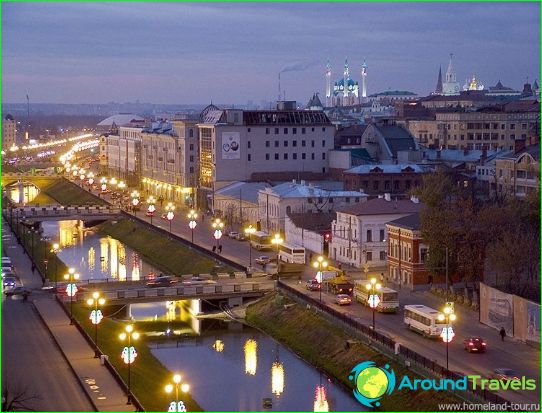 His millennium Kazan met modern,beautiful, stylish city, which are carefully preserved cultural and historical traditions, and its inhabitants are able to love and to receive guests. So a trip to the capital of the Republic of Tatarstan may be a good choice for those who decide how to spend your holiday, vacation or just a long weekend.
When to go to Kazan?
The most pleasant time in Kazan starts in spring. The air temperature in April reached average values ​​at 15 degrees Celsius, allowing comfortable to walk on the streets and squares, and sightseeing. In summer, the city can be quite hot, and therefore should be reserved comfortable clothes and hats. Long sleeve and closed his knees - the necessary conditions not only for protection from the sun, but also to visit many of Kazan churches and mosques, many of which are well-known historical monuments.
How to get to Kazan?
Aircraft from Moscow to Kazan commit all the wayjust half an hour. On the train will have to go up to 20 hours depending on the category, and bus tours are very popular among the inhabitants of the surrounding towns with the capital of Tatarstan.
housing
Can not only stay in Kazantraditional large hotels, but also in the family mini-hotels that have opened in the city in large numbers. Cozy atmosphere, comfortable and hospitable hosts - a guarantee that the holiday will enjoy and remember.
Argue about taste
A distinctive feature of public institutionsPower in Kazan - excellent quality of food served and ubiquitous wireless internet access. The restaurants and cafeterias of the city can enjoy the Tatar and Russian cuisine, and to find a way to eat without breaking religious traditions. Tatar cuisine is famous for its soups and pies, sweets and drinks. Try all absolutely in any cafe or restaurant - the quality will be at the height regardless of rank institutions.
Cognitive and exciting
Kazan Kremlin and mosque Kul-Sharif - two of the mostfamous attractions and business cards of the city. For theater-goers will be an unforgettable visit to the opera theater. Musa Jalil, and fans of museums and exhibitions are unlikely to have time to see all the Kazan exhibition, many of which are unique and unrepeatable in the world.
Photos trip to Kazan